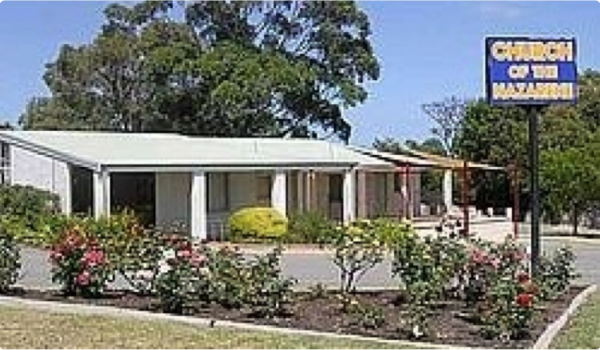 This post is also available in: French Spanish
"The Mission Station"*
Rev. Tim Burton, Pastor, Dianella Church of the Nazarene, Perth, WA Australia
"…I saw a vast crowd, too great to count, from every nation and tribe and people and language, standing in front of the throne and before the Lamb." Revelation 7: 9,
Our prayer: as it is in heaven, may it be on earth! Amen!
It is already past the advertised starting time. Carloads of people continue to arrive at the Mission Station, our Dianella Church of the Nazarene in the suburbs of Perth, Western Australia. Some come from various train stations around the city; others find their own way to church using other forms of public transport; some may arrive up to 45 minutes after the welcome, beginning the morning worship service. They have come to Perth from Azerbaijan, Brazil, Burundi, the Congo, Ethiopia, Eritrea, Greece, Japan, Hong Kong, Liberia, Macedonia, Mozambique, Pakistan, Papua New Guinea, Peru, the Philippines, Singapore, Somalia, South Korea, Southern Sudan, Taiwan, Thailand and yes, from the United Kingdom, Canada, New Zealand, and Australia itself. Though some are refugees, most are students either in their Gap Year, or on a two-year Working Holiday.** Yet, no one is upset by the late arrivals; rather they are warmly welcomed as their presence has become an integral part of our multi-ethnic congregation.
Mission Station is the name of the Teaching English ministry. It draws reference from the fact that many students travel by train, and how a station is a place of stopping in order to go on to the next destination. We appreciate the short-term nature of much of this ministry to individuals, who may only be in Australia for 12 months. So, after Sunday morning worship and fellowship time, we clear the church hall for the English class. In addition to the Mission Station of Sunday morning, we offer a Free School in downtown Perth on Wednesday evening, in a room providentially provided in Perth Central (Train) Station itself.
During worship, we may sing in English or in nine different languages. We have interpreters for Korean, Mandarin and Portuguese as deemed necessary. For our two English classes, we make it clear that we will be teaching using the Bible as our textbook, presenting ideas about God and invite all to stay. Many do. The students may be committed Christians, some have lapsed in their faith, or are Buddhist or Hindu, while others are secular-minded in this land of opportunity. Additionally, there are some who have come to know God and love the Church of the Nazarene in their countries of origin.
The Dianella Church of the Nazarene was the first congregation born out of the outreach to Western Australia that began in the 1960s. The church celebrated its 50th anniversary in 2012. It has been difficult to dig deep into the psyche of the West Australian, who has either strong existing links to older, established denominations, or sees him/herself as part of the new secular state concept promoted in Australia. Many churches are swelled by arrivals from other countries that bring their expression of faith with them. Australia promotes itself as a multi-cultural paradise, and Perth is one focal point of that view. Throughout its history – starting with a gold rush in the 1880s – Western Australia has been regarded as a huge land of undiscovered wealth potential. Many locations for iron ore and other sought-after minerals have been discovered, with a more recent mining boom occurring over the last 30 years. As people chase the dream, many arrive from all around the world seeking a new and improved lifestyle in this land of opportunity. It is not easy to speak to those of heavenly things when the matters of this world dominate (Colossians 3: 2). Others have spoken of already experiencing 'heaven on earth' here with all the natural delights available in such a location: the weather is mostly glorious and the beaches superb. What more could God provide? What more indeed!
The recent focus on students began over 3 years ago when Woong-Gi 'Peter' Seong, a South Korean missionary, followed his call to care for the international students of Perth into the city district. Meeting students on the street convinced Peter, that the establishment of a supportive group that could teach English at a minimal expense, was critical. With that in mind, Peter approached the Dianella Church of the Nazarene for use of their facilities. Could the students attend the church service, giving them an experience of English being spoken by native speakers, as well as receiving the gospel message? The answer was . . . Absolutely! So the Mission Station ministry for teaching English as a means of sharing the Gospel of Jesus was born. Arrangements were made for a 90-minute class to begin at the conclusion of the morning worship service, and individuals made themselves available to assist with the ministry. Two church members already had certification to teach English as a second language, with others experienced in working with non-English speakers. Volunteers were available to work with small groups of students in simple conversation groups where new words were introduced, meanings shared and pronunciation assisted. Others, who could not attend the class time, offered to prepare lunch as the class was held over a mealtime. Still others supported in prayer. All of this assistance continues today and Peter is part of our ministry team.
There are challenges. Too often, ideas get lost in mistranslations or misunderstandings.
Patience is required. A key practice has often been to let drama tell the story when words fail. We have practiced many times the process of trial and error. We always seek to learn how to better communicate a foreign language through the claims of the Gospel. We are committed to the transportation of students around a modern city, to meal provision, to practical assistance settling students in the city whenever possible, and to friendship. The efforts of many – if not most – of the congregation, are helpful to the success of this ministry. It has been born of vision, developed through prayer and planning, strengthened by communication and effort, seasoned by the Spirit of Christ, revealed in true compassion, and committed to assist and in the sharing of the universal language of laughter.
[New Zealander and Associate Editor of The Preacher's Magazine, Rev. Annette Fraser, recently interviewed Rev. Tim Burton to gain further insights into the challenges of this ministry.]
PM:
Pastor Tim, thank you for sharing with Global Nazarene pastors, this wonderful story of God's people reaching out to share His grace. Would you tell us the difference between the Mission Station in Dianella and the Free School in the city?
Pastor Tim:
The Mission Station is the name of the whole ministry vision, with the Free School
being the advertised midweek class held in the city centre, Perth. It often is the first
point of contact for those who are unsure of travelling to a church building for class and it
is also more accessible. This is a miraculous story of God's provision: we spent two years meeting in the office of one of our church members in the city but then needed to leave it as we outgrew it. We canvassed churches and other rooms for rent without success. All were unaffordable or unavailable for two hours on a Wednesday evening. Suddenly, there was the perfect spot – right above the Perth Central Train Station. Here was a room we could use – comfortably seating 50, with whiteboard, tables, and chairs in a classroom setting and with a kitchenette included, for only $30 per week. Praise God!!
PM:
Yes, indeed! Pastor Tim, you mentioned that there were challenges. I can imagine that just working together in unity with people from so many countries would not only be, like "heaven on earth " within itself, but could also present some major challenges. Would you identify some of these and how you dealt with them?
Pastor Tim:
Sure. Often they are little things: we need to be careful with the language we use. We must intentionally speak much slower. We need to let others express themselves at length, to attempt to communicate the significance to the culture behind the words. This involves patience.
There are other small challenges, like eating style: for example, in one culture, guests stand around the serving table eating right there without taking a plate and sitting down right away like other cultures. This sometimes means that food is not always evenly distributed, as the faster you eat, the more you get.
Another, is washing dishes in cold water and soap. Many cultures still do this regardless of the availability of soap and hot water and there are discussions that follow of the benefits of hot water.
Another, is the standard response of a smile and "yes" to a question asked. Later, we came too understand that this simply means, "I heard you" rather than "I understand". We came to learn that the questioner must ask the hearer to repeat back what was said in order to be sure the conversation is understood.
All of these differences require God's grace of patience.
PM
Pastor, you have talked about a Christ-like culture. What does that look like in the matter of washing dishes and eating standing around the serving table?
Pastor Tim:
Well, we made the decision that none of the challenges were big enough to spoil fellowship. Our key response is appreciation. I do not enjoy all I am given to eat, but the building of relationships through eating together is powerful and more important than personal tastes. I think we see many examples of this in Jesus' ministry
PM:
Thank you, Pastor. Are there times when each culture has the opportunity to talk about their countries of origin and share norms and foods?
Pastor Tim:
Thank you, for asking. Yes!! We have developed a secondary ministry time with monthly meetings, called "Messy Chef" (after TVs "Master Chef'). It involves learning about a particular culture's cooking style with lots of eating to follow. This generally takes place in homes, so transportation is an issue. It is also designed as a point of first contact: easier to invite to a meal in a home than to a church service. A devotional thought is added to the occasion and it often fills the remainder of the Sunday afternoon.
The two major talents in the church are language and cooking.
PM:
You wrote about Australia being viewed as "heaven on earth" by those seeking to come and live there. Beside the weather and beaches, what else contributes to this attraction?
Pastor Tim:
Well, the pace of life is relaxed, there is an abundance of "green space" to breathe and grow, average income is very high, unemployment is amazingly low, and the Australian government provides financial assistance as a matter of course for the entire populace from the "cradle to the grave" – even those from other countries.
PM:
Thank you for sharing of your ministry, Pastor. (Aside: I think I will move to Australia )
Is there anything else you would like to share as we conclude?
Pastor Tim says in closing:
Yes. I want to tell you that God provided our rather unusual method of outreach. Additionally, he blessed us with personnel who began the vision, those who have qualifications for Teaching English as a Second Language (TESL), those who will donate and supply food, those who will assist in dealing with government agencies and adapting to the new Australian culture and language, Strine***, as well as a large number who support in prayer.
In addition to enjoying the ministry of teaching, as private sessions are held and understanding grows, it has been a privilege to witness 13 baptisms over the past 3 years. We have watched those who have returned to home countries – finding church homes in their area. We have supported those who have continued their travels by promoting the network of sister churches we have around Australia, the region, and with the Church of the Nazarene. We have participated with joy, as students have been married in our church. We praise God that lives have been changed. Another longer-term result is with one of our pastors from Africa, who came as a refugee, and eventually became Assistant Chair, District Advisory Board of the Western Australia District, Australia.****
Finally, as relationships are formed across the cultural divide, we sense something of the prayer of Jesus being answered, "May they be brought together in complete unity to let the world know that you sent me and have loved them as you have loved me." (John 17: 23).
* * * * *
Notes:
* "Station" in Australia, is the name of the owner's house on a good-sized ranch. Australia has the largest stations/ranches in the world, the largest of which is 6,000,000 acres. Note the play on words used.
** "Gap year" is the one-year break between High School and University that is taken by hundreds of students in the United Kingdom, Canada, New Zealand and Australia. It is an opportunity to "see the world." A "Working Holiday" is an arrangement that is set up in the above countries, where the respective governments readily issue two-year working visas. The student is provided housing, work, and an income for two years. Hundreds of young people take advantage of this program.
*** "Strine" is the colloquial word used for "Australian English," which is a derivative of the fast paced sound of the word "Australian." It is based on the practice of running words closely together so as to be barely recognizable as English to the outsider. It is VERY real.
**** Preacher's Magazine will be publishing the story of Pastor Gabin Nzoyihera in an upcoming issue.