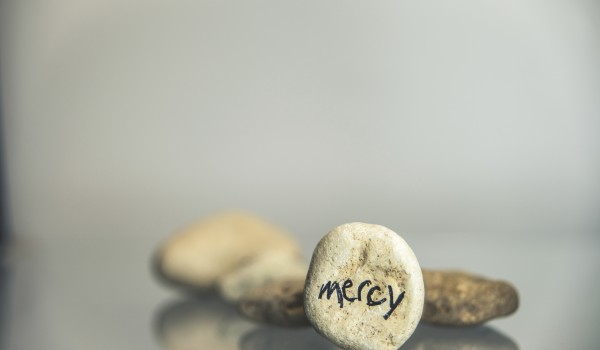 This post is also available in: French Spanish
Series Title: Humbly Receive, Lovingly Give
Sermon 3: "Encouraging, Giving, Leading, Showing Mercy"
By Lisa and Samuel Aparicio
Passage: Romans 12:3-8
INTRODUCTION
Over the past couple of weeks Pastor Samuel and I have been trying to bring a different focus to the idea of spiritual gifts.  We have emphasized that humility is the appropriate posture in which to receive our spiritual gifts and that worship to God is to be our ultimate focus as we use those gifts and communally offer them up as a sacrifice to God.  We leaned into the importance of humility last week as we looked at three of the more "visible" gifts that Paul listed in Romans 12:6-8.  This week we are going to look at the last four of the spiritual gifts and we are going to lean into the importance of the body of Christ in utilizing these gifts.
Let's start by reading again our passage in Romans.  Romans 12:3-8 (NIV)
3 For by the grace given me I say to every one of you: Do not think of yourself more highly than you ought, but rather think of yourself with sober judgment, in accordance with the faith God has distributed to each of you. 4 For just as each of us has one body with many members, and these members do not all have the same function, 5 so in Christ we, though many, form one body, and each member belongs to all the others. 6 We have different gifts, according to the grace given to each of us. If your gift is prophesying, then prophesy in accordance with your faith; 7 if it is serving, then serve; if it is teaching, then teach; 8 if it is to encourage, then give encouragement; if it is giving, then give generously; if it is to lead, do it diligently; if it is to show mercy, do it cheerfully.
FIRST:
Have you heard the saying, "Repetition is the mother of all learning"?  It's a translation of a Latin proverb, so this saying has been around for a really long time.  We can see it used even today in a variety of conversations on education, teaching methods, etc. and we can see a practical application of it in Paul's writings on the spiritual gifts.  As Pastor Samuel and I mentioned in the first week of this series, there are three clear passages in the New Testament where Paul talks about spiritual gifts; Romans 12, Ephesians 4, and 1 Corinthians 12.  In addition to discussing spiritual gifts in these passages Paul also talks about the body of Christ in all three passages.  For Paul there was a clear connection between the spiritual gifts and the body of Christ, a.k.a. the Christian family, the fellowship of believers, us…together.  We've just read that connection in Romans.  In Ephesians 4:11-12 Paul words it this way:
"11 So Christ himself gave the apostles, the prophets, the evangelists, the pastors and teachers, 12 to equip his people for works of service, so that the body of Christ may be built up
In 1 Corinthians 12 Paul starts the conversation by saying,
1 Now about the gifts of the Spirit, brothers and sisters, I do not want you to be uninformed.
An then in verse 12 directly following his teaching on the gifts of the Spirit Paul continues by saying,
12 Just as a body, though one, has many parts, but all its many parts form one body, so it is with Christ. 13 For we were all baptized by one Spirit so as to form one body—whether Jews or Gentiles, slave or free—and we were all given the one Spirit to drink. 14 Even so the body is not made up of one part but of many.
So, if repetition is the mother of all learning, then we should be noting that the body of Christ is a pretty central part to understanding our spiritual gifts.  Therefore, if we recognize its importance, what is the reason for it?
Paul repeatedly points out that we don't receive every gift nor do we all receive the same gifts.  The genius of our bodies is their diversity.  Having two noses instead of a nose and a mouth would definitely have some drawbacks.  The same is true with the body of Christ.  If we all had the gift of teaching, but no one had the gift of showing mercy our ministry as a church would have some major drawbacks.  The strength in these spiritual gifts comes when we all work together to accomplish the will of God for our church and community.   Conversely, our weaknesses are revealed when some hold back their gifts and cause the church to have to do its ministry without its full capabilities.
In thinking about us working together as the body of Christ to accomplish God's purposes in our world I began to think about how teamwork activities generally do a pretty good job of revealing where the weaknesses are in a team.  Which led me to this beautiful sign.  "Team Building: Sometimes, the most important lesson you can learn is that you're not a very good team."
I've been white water rafting one time in my life.  It was just over five years ago when we were in Peru for a family reunion with Pastor Samuel's mom's family.  You might look at this picture and think that it was the back row that carried the weight for our group, but you would be wrong.  I can assure you I was the least helpful person in the raft that day.  My main focus, honestly probably my only focus, was simply on not flying out of the raft.  Granted, me flying out of the raft would have slowed our progress down considerably.  However, while I remained in the raft my presence wasn't of much consequence as I contributed very little to our overall efforts.  I rowed or steered very little in between clinging to the raft when we would bounce and splash through rapids.  My contributions increased when we were in calmer waters, but more help is usually needed when the waters are rough.  By the end I had relaxed considerably and I did have a great time.
The reality for us in the church, though, is that we don't really have "team building" activities as such to help the church identify its weak points.  Our assessment comes from the impact we are making on our community and our world.  Therefore we are each personally responsible for our part, being honest with others and ourselves about our strengths and seeking ways to use them to help out the team.
My white water rafting experience was just for fun but what if it was a rescue operation and someone who was very experienced with white water rafting was standing on the shore but never offered to help and finally some inexperience person like myself offers to go because no one else was volunteering.  I would say the team would clearly have been at a disadvantage.  In the same way, our individual gifts that make up the whole work of the church matter.
That's the focus for the gifts we will be looking at today.
This big-picture mindset will certainly help us, because if the temptation of the gifts last week was pride, then the temptation of the gifts this week may very well be to undervalue them.  If you are at all like me I can pretty much always find a reason to downplay or dismiss my involvement in a ministry, project, etc.  This temptation becomes so much stronger with these gifts when they are viewed in isolation of just what we are doing individually.   However, when they are connected to the outworking of the entire community their value becomes much more apparent.
SECOND:
ENCOURAGING:
The fourth gift listed in this passage is encouraging.  For me, images immediately come to mind of people who have encouraged me throughout my life.  Those who came alongside me when life got hard and comforted me and helped me continue ahead.  People who have this gift are NOT walking encyclopedias of platitudes.  Rather this is someone who has a God-given ability to empathize with others and to motivate them to continue forward.  The idea here is someone who encourages others to persevere in their faith either by teaching or by example, which we can gather from the other places this word is used in the New Testament.  I know this type of person well.  They take the time to understand my struggle and they aren't dismissive about it.  Their very lives are often the most powerful inspiration for me and their encouraging words help me to move on ahead and to not give up.
This is not the person that comes in and immediately starts pointing out what I did wrong or how I am at fault, but rather their end goal is to help me get back up and keep moving toward the goal of becoming more and more like Christ.
GIVING:
The fifth gift is giving.  Starting with this gift we get some additional instructions from Paul about HOW we are to use these gifts.  With the gift of giving, we are told to give generously.  It would probably be good to point out right from the beginning that this gift is not limited to financial gifts.  So just because you might not have much to give in the way of money, don't tune out, this gift might still resonate with you.
You can give of your time, your friendship, your talents, as well as money.
Thinking of giving in this way brings to mind people who give of their time to volunteer at Heritage Preschool, at the Food Pantry or for activities here at the church. Those who give donations to help our children and teens go to camp and NYC or those who donated money toward scholarships for the women's retreat.  I think of people like my Grandma who didn't have much financially and couldn't drive herself to visit people but who faithfully gave of her time to call and check in on others or to regularly write letters to them.  I think of those who call the church to see if we're running low on cups or plates or supplies and the just buy some and drop them off at the church.
That is the gift of giving, people who see a need and their heart is moved to respond.  Their heart isn't worried about not being able to meet every need, they focus on "what can I do?" and their heart is moved to do what they can do.  That is the type of giving that comes from the Spirit.
Here Paul tells us to give generously.  It could also be translated, give without ulterior motive.  You give without trying to get something out of the recipient.  You give without expecting anything in return.  Give without any ulterior motives, give generously and sincerely.
LEAD:
The sixth gift is leading.  Honestly, this gift initially feels like it should have been paired with the first three that Pastor Samuel preached about last week.  However, the word can mean both someone who oversees something or someone who comes to the aid of others.  Giving it's placement in the list between giving and showing mercy, rather than at the beginning between prophesying and serving, understanding this type of leadership as one who rises up to respond to the needs of a given situation is a powerful understanding of leadership and a very biblical one as well.  That understanding then would lead us to see the gift of leadership not limited to someone who is elected to or serves in a prominent position, but rather the person who in the middle of a crisis or difficult time, can help others see the way forward and lead the way there.  The "helping others move forward" is a key piece.  The saying is true that "a leader without followers is just a person out for a walk".
The qualifier for this gift is that those who lead are to lead diligently.  What does leading diligently even mean?  It is a leadership that is characterized by steady, earnest, and energetic efforts.  Other translations can be with zeal or eagerness or passion.  All of these words speak to the idea that leadership can be very tiring and draining and as a leader if you are coming to the aid of others, you need to be steady in your leadership and to be attentive to how you lead so that you can continue forward with the same energy and passion with which you began.
SHOW MERCY:
Finally the seventh gift listed here is showing mercy.  Mercy is one of those words that I know what it means and yet every time I read the definition of it I'm awed by the fullness of the word.  Mercy as defined in Webster is "kind or forgiving treatment of someone who could be treated harshly OR kindness or help given to people who are in a very bad or desperate situation".  How often we fail as Christians to show kindness or help people in desperate situations in the same way Christ has shown such mercy to us.  Notice that the first definition even points out that one could argue that the recipient wouldn't deserve it, but the second definition doesn't mention the question of merit at all.  The person with the gift of showing mercy therefore isn't hindered by who does or doesn't deserves their kindness, forgiveness, or help, they offer it freely to all just as they have freely received it from God.
There can be a component of sacrifice implicit in showing mercy, be it personal or corporate.  We give up our "right" to seek out retaliation when we extend forgiveness to someone.  We give up our "right" to defend our own ideologies when we see the personal stories of those in desperate situations and open our communities, our doors, and our lives to them to extend help.
I was listening to a presentation by Dr. Michael Lindsay the president of Gordon College this week and in that talk he said, "I have found that the most potent form of Christian witness came from people who were willing to sacrifice something.  When you actually give up a perk or a privilege that the rest of the world thinks is due to you, when you give that up, that becomes a way in which you actually bear witness to your faith."
Showing mercy often provides the opportunity for that kind of witness.
And how could I talk about mercy this week without touching on the stories we heard from Charleston, South Carolina over the past couple of days?  Amidst the horribly painful stories of the shooting itself, we began to see the stories of surprise at the victims' family members' response to the shooter.  Reports state that the shooter appeared by video feed at his bond hearing and heard words of intense grieving and sadness, but also words of forgiveness from the families of the victims.
Ethel Lance's daughter said, "I will never be able to hold her again. But I forgive you and have mercy on your soul," she said. "It hurts me, it hurts a lot of people, but God forgive you and I forgive you."  The mother of Tywanza Sanders said, "We welcomed you Wednesday night in our Bible study with open arms.  You have killed some of the most beatifule people that I know. Tywanza Sanders was my son, but Tywanza was my hero. But as we said in Bible study, we enjoyed you, but may God have mercy on you."
The husband of Myra Thompson said, "I forgive you and my family forgives you, but we would like you to take this opportunity to repent … give your life to the one who matters the most, Christ, so that he can change it and change your ways no matter what happens to you, and you'll be OK."
I could read more.  Words of forgiveness are always powerful, but they seem even more so in moments like these, because as we said earlier "the most potent form of Christian witness comes from people who are willing to sacrifice something."  In forgiving, these Christians are sacrificing their "right" to seek revenge and to hate the person who has so terribly wronged them and yet they responded with words of mercy and the loving forgiveness of their God.
With that kind of powerful witness it shouldn't be surprising then that this verse the only place is Paul's writings where the word translated here as "mercy" is used of humans showing mercy rather than divine mercy that comes from God.  Everywhere else this word is used for God's divine mercy shown to us.  Yet some have received this gift to show mercy to others and the qualifier here is that it is to be done cheerfully.  Showing mercy is a reminder in and of itself of the mercy we have received and so with gladness we share that mercy with others.
CONCLUSION:
Can you begin to see how the temptation of the gifts this week can be to undervalue them?  In isolation we can think that our volunteer hours at the preschool or our phone call to a friend or our $10, 10 year anniversary check to the student ministries are insignificant and dismissible, however, when they are connected to the outworking of the entire community and your gift is partnered with my gift and those individual acts of encouraging, giving, leading and showing mercy are pooled together, their value becomes greater than the sum of its parts.  That's why the body of Christ is so important.
So those are the seven gifts listed in Romans 12: prophesying, serving, teaching, encouraging, giving, leading, and showing mercy.  As we come to this point in our sermon series, I hope you have been able to identify with some of the gifts we have talked about and that you are no longer questioning whether or not you have any spiritual gifts.  Especially as we mentioned previously that the lists in the Bible are not intended to be comprehensive.  There are some gifts repeated throughout the three passages, but there are definite differences, which highlights Paul's intention being for these lists to serve as examples.
In our passage in Romans 12 there are seven gifts, which is a significant number.  In the Bible, the number seven is often used to express the idea of completion.  So we started with gift number one being prophecy with the focus on hearing from God and sharing with others the words he has spoken and we ended with gift number seven showing mercy which is a sharing with others the same mercy we have received.  It has the sense that we've moved from beginning to end and everything in between is summed up in the list.
This fits with our understanding that ultimately a spiritual gift is whatever gift or talent you have that you have surrendered to God to be used by him for his kingdom.
Your homework then for this week is to examine your passions and your talents.  What are you good at?  Write them down.  What gifts has God given to you?  Even if they aren't specifically one of the seven listed here in Romans 12.  Again, what makes them spiritual gifts is surrendering them to God and using them for him in our daily living sacrifice to God.
And if you are still struggling to identify what your spiritual gifts might be, I'd encourage you to contact the church and talk with one of us on the pastoral staff.  Sometimes we just get too good and discounting our own gifts and it takes someone else to help us recognize the things we are truly good at and we'd be happy to help you in that discovery process.
Lisa and Samuel Aparicio serve on staff at the Harrisonville Church of the Nazarene (Harrisonville, MO). Additionally, Lisa serves as Ministry Development Coordinator for Nazarene Youth International and Samuel serves as an Associate Editor of Preacher's Magazine.