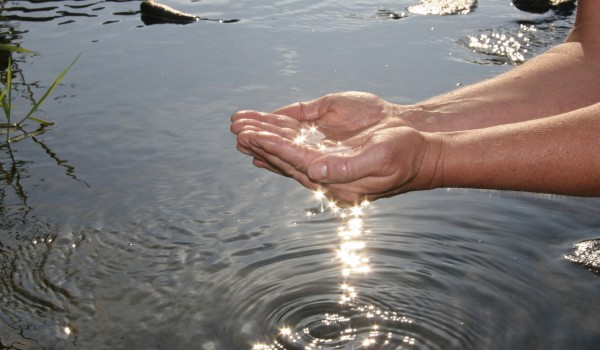 This post is also available in: Francés Inglés
Written by Stephanie Dyrness Lobdell – Co-lead Pastor, Kingston, Missouri, USA
Listen to the accompanying Podcast for this sermon: [display_podcast]
I live in the country, but I assure you – I am not a country girl!  Three years ago, my husband and I accepted a co-pastorate in a little-bitty town north of the city in Kingston MO.  I now know more about cows, soybeans, corn, and how many inches of rain we got last night – than any preacher needs to know. I'm a resident alien – in the truest sense of the word.  Yet, I am finding truth and beauty in the emerging soybean plants and the new spring calves, recently born. 
I love spring in the country because it is just so easy to see God in the world around us: in the budding trees, the greening of nearly everything, and the return of the birds.  I know I experience God's grace when I see the season's first robin.  As strange as it may sound, I always make a point to greet the first robin I see, just to let him or her know that I'm glad they are back and hope they have a successful egg season.  God's grace right there.  Maybe you experience God's grace when you are outside, soaking in the sun, and reveling in the beauty of God's creation.  Maybe through a flying 'V' of geese, or the wet nosed kisses of a beagle.  Sometimes, we encounter God's grace through the kind word of a friend, or through a certain song that uplifts your spirit and fills you with joy and hope. I hope that it can become a more intentional practice for all of us: to constantly be on the lookout for God's grace showing up in our lives in the most surprising of places.
John Wesley was serious about experiencing God's grace in everyday life.  He wrote and talked about these 'means of grace' frequently.  Today, we are going to explore what could be called John Wesley's "signature" doctrine, which is intimately related to his understanding of means of grace.  That doctrine is the doctrine of Christian perfection.  He wrote on the subject prolifically and challenged his people with it constantly.    Now, I can imagine some of you are sitting in your seats thinking, "Um, did she just say perfection?  Yeah, that is so beyond me, it makes me depressed to even think about.  I think I will just check out from this particular sermon and tune in again when she preaches about something that I can relate to and can actually help me."
In my undergrad program at MidAmerican Nazarene University, I was in a class called the doctrine of holiness.  My professor was older than some.  He had been around for decades of the holiness debate: "what is sanctification?"- "what does it actually do?", etc.  He told us a story in class of an encounter he had  talking to a man in church one day about sanctification.  My professor was expressing some doubt about the language we have used when talking about holiness and sanctification.  The man got a bit indignant with him and said, "I don't see what the problem is- I haven't sinned since 1952!"  My professor thought to himself, I think you sinned right there buddy, the sin of pride!  Can you imagine?  Something had definitely gone awry with this man's understanding of holiness and sanctification.
For those who feel that fear or discomfort rising in their heart – have no fear.  This sermon will not be an exercise in pastoral verbal abuse.  I'm not going to stand up here and talk about how we are supposed to 'be perfect' and anything less than that is 'unacceptable' and you should be ashamed.  I, of all people, am the least qualified to preach that to anyone.  However, the doctrine of Christian perfection is actually a doctrine of hope and grace – not one of condemnation and shame.
You're probably more familiar with this idea of Christian perfection than you think.  You might have heard this topic discussed under a different name – entire sanctification.  Our belief in the possibility of entire sanctification is the hallmark of the Nazarene church, as well as some of our sister holiness churches: the Wesleyans, Methodists, and Salvation Army churches.
So what is it?  Christian perfection, entire sanctification, the second work of grace, the fullness of the blessing, the second blessing: whatever you want to call it.  There were some folks back in Wesley's day who believed that every person will sin every single day in word, thought, and deed – they could not help but sin.  They believed humanity was so totally depraved and would remain so until the end of the ages.  The more Wesley studied – the more that he preached, prayed, and talked with his parishioners -the more he thought: "Really?  We will sin every day in word, thought, and deed – without exception?  So, even after we have been saved by the blood and resurrection of Jesus, we are still slaves to sin?  Is this the best we can really hope for?  A life defined by continual failure and defeat by sin?  Is God's arm too short to save us entirely, to the uttermost?  What are we saying about God when we buy into this 'sin in word, thought, and deed' stuff?"
Wesley concluded, "That is not salvation.  By salvation – I mean not barely, according to the vulgar notion, deliverance from hell or going to heaven, but a present deliverance from sin, a restoration of the soul to its primitive health, its original purity, a recovery of the divine nature, the renewal of our souls after the image of God in righteousness and true holiness – in justice mercy and truth…I see the necessity of preaching a full and present salvation from all sin.»  For Wesley, to be saved from sin was to be saved from intentionally sinning against a known law of God.  He affirmed that we are still human, not yet glorified, and we will make mistakes because of our imperfect knowledge, but we do not have to intentionally go against the will of God as we know or understand it.
There are still God-fearing, authentic Christians who faithfully love the Lord that don't buy into what Wesley said.  They are convinced that we all will, without a doubt, sin every single day; most of these folks come from the Calvinist tradition.  But when our church, the Nazarene church, was founded – it was founded on this idea that Wesley affirmed:  salvation is not just a ticket out of hell, it's more than just wiping our slate clean (although that does happen without a doubt).  Our church affirmed (and affirms), that through the power of the Holy Spirit, we can be free from the power of sin.  We are not condemned to be slaves to certain weaknesses and sins for the rest of our lives.
You might be thinking to yourself, "that's great – but this just doesn't apply to me.  It applies to the super spiritual, the Michael Jordan's of Jesus followers, the Dale Earnhart of disciples.  If you only knew.  If you only knew the things I wrestle with.  If you only knew what I've done, the skeletons in my closet.  If you only knew how much I wrestle with anger at those who have hurt me.  I cannot forgive them.  I will never ever try to fix that relationship.  No way.  You don't know how frustrated and impatient I can get with my kids.  I lose my temper and I snap back at my kids or spouse and I hate myself for it.  If you only knew how hard it is to give up an addiction.  I've been smoking for 30 years.  There's no way I can quit now.  I've been hooked on pornography since high school.  Even though I hate it,  so many times I have promised myself over and over again that this is the last time, it never is.  There is no freedom possible for me."
I hear you.  I hear the pain in your voice.  I see the regret in your eyes.  I've been there too: the trying hard and failing time and again, the frustration, the self-disgust, the despair, the knowing that I will never be what I'm supposed to be.  I hear you.  Now, hear me.  There is hope.  There is freedom available, even to you, even to me.  God didn't intend to leave us in our sins: to save us just enough so we feel really bad all the time.  He wants to save us entirely.  Mildred Bangs Wynkoop once said, "Holiness is God's will.  To it we are called.  The gospel call is not merely to forgiveness but to holiness.  The Holy Spirit is given to Christians to make holiness a possibility."  Let's see what the Scripture might have to say to us on the subject.
Turn with me to 1 Thess. 4:1-8
"Finally, brothers and sisters, we ask and urge you in the Lord Jesus that, as you learned from us how you ought to live and to please God (as, in fact, you are doing), you should do so more and more. For you know what instructions we gave you through the Lord Jesus. For this is the will of God, your sanctification: that you abstain from fornication; that each one of you knows how to control your own body in holiness and honor, not with lustful passion, like the Gentiles who do not know God; that no one wrongs or exploits a brother or sister in this matter, because the Lord is an avenger in all these things, just as we have already told you beforehand and solemnly warned you. For God did not call us to impurity but in holiness. Therefore whoever rejects this rejects not human authority but God, who also gives his Holy Spirit to you."
Also, in 1 Peter:1:13-16 we here it again:
"Therefore prepare your minds for action; discipline yourselves; set all your hope on the grace that Jesus Christ will bring you when he is revealed. Like obedient children, do not be conformed to the desires that you formerly had in ignorance. Instead, as he who called you is holy, be holy yourselves in all your conduct; for it is written, 'You shall be holy, for I am holy.'"
Be holy for I am holy.  It is my will that you be sanctified.  In Matthew, Jesus even says, "Be perfect as your Heavenly Father is perfect."  That's a tall order.  However, we must remember this: God does not call us to something that he will not equip us to do.
So, what does it mean to be holy, to be "perfect," as the Scripture says it?  We have even struggled to define this in our tradition.  Many times, holiness got mixed up with just being moral.  So, if you wanted to be holy, you just needed to 'avoid' specific things.  We know this to be hollow.  When we equate being moral with holiness, we are right on the precipice of falling into legalism and into an unholy pride. Just like that man who talked with my professor,  "I haven't sinned since 1952." What a shallow way to talk about holiness!
See, that generation of folks talked about the sinful nature in terms of a root, the root of sin.  They talked about it like an actual substantive, physical thing.  So, once you've been sanctified, that sinful nature is dead, rooted out and burned in the fire, some said, totally eradicated.  Then, to talk about post-sanctification sin was a real problem and resulted in some cases of unholy pride – in legalism (only external indicators of holiness).  Younger folks, like my parent's generation, were really disillusioned by this.  All these people floating around claiming to be entirely sanctified, but so many were judgmental and false – somehow, unwilling to express doubt or confusion, not humble and gentle, but rather prideful and harsh with others – probably because they were harsh with themselves.  Some of those younger folks walked away from the church, believing that this whole sanctification thing was a pipe dream, just religious elitism.
So, in the 70's, some began to look at this situation and realized, something is seriously wrong here.  It seemed like whenever someone tried to bring up the subject to reevaluate our teachings on sanctification, they were shot down.  Until one day, an absolutely brilliant theologian, named Mildred Bangs Wynkoop wrote a "little" book called A Theology of Love, which turned out to be a completely revitalized theology of sanctification.  Instead of talking about sin in physical terms, like a physical root of sin and eradication, etc. – she talked about holiness and sanctification in terms of a relationship.  Instead of talking about sin like some physical "thing" within us, she began to talk about sin as a malfunction, as a disorder, a disposition, a perversion of love.  She said, "The carnal mind [the sinful nature] is not an entity – a thing, or a bit, or a parasite.  It is a disposition, a bent, or motivational pattern.  It is a distorted or perverted pattern in that it is self-centered instead of God-centered."
In essence, because of sin, we are broken.  Self-centered instead of God centered.  We are born with this malfunction because of the fall of humankind.  If you don't believe me, go hang out in a day care for a while.  What's one of the first words most kids learn?  No!  Mine!  Toddlers in particular can be brutal: ripping toys out of people's hand, whacking you in the face with no warning, running around all over like crazed rabbits in an attempt to avoid taking a nap!  We are born with this inclination, this disposition to put self-first, with this mindset that is wired to say, "Me first!"  Are you with me?  Tommy and I are expecting our first child in September and as much as I want to believe that sweet little baby growing inside me is perfect in every way, I know that he or she will, at some point not far down the road, flash that spirit of rebellion in our faces.  What a day that will be.  We may laugh about toddlers and their ever-apparent sinful nature, but teenagers, and we adults, aren't much better, are we?  Maybe worse?  It's so easy to put ourselves and our desires first – or even the desires for our families before God.  Our culture feeds into this.  I hate, I mean hate, the secularization of Christian holy days, especially Christmas.  The commercialization is just sickening. What makes it worse are those commercials that try to get you to buy stuff and applauding you for caring so much for others all the while insisting that you treat or pamper yourself.  It's so incredibly self-focused: a justification for us to do what we want, entirely self-focused.
If sin is basically a perversion of love: making 'love of self,' instead of love of God, central – what then is holiness?  Holiness is in fact, perfect love.  We can only know perfect love through the love of God.  God did, in fact, demonstrate his love for us in this: that while we were still sinners, still rebellious, still self-centered – Christ died for us.  If this is true, if God demonstrated his perfect love to us when we were wandering around in the darkness, any relationship we have with God, any sanctification that we experience, is only by God's initiative.  We didn't find God.  God found us.  We don't make ourselves holy through certain practices.  God's perfect love calls to us and, if we respond to his call with a willing heart, God will sanctify us.  He will plant the seed of perfect love in our hearts.
In 1 John 4:16-19:
"God is love, and those who abide in love abide in God, and God abides in them. Love has been perfected among us in this: that we may have boldness on the Day of Judgment, because as he is, so are we in this world. There is no fear in love, but perfect love casts out fear; for fear has to do with punishment, and whoever fears has not reached perfection in love. We love because he first loved us."
Can you open your eyes this morning and see God's love for you?  That all-embracing, self-giving, transformative love?  The love that says, "you are safe in my arms?"  When I was in high school, I went through a pretty difficult time.  There was a guy who mistreated me terribly.  Not only did he mistreat me, but he blamed me for how he acted.  It's always your fault Stephanie, your issues, your mistakes.  It was horrible.  I felt so alone, so worthless, so unloved.  I blamed myself, not knowing that he was emotionally manipulating and abusing me.  One day in particular, I had had a horrific day at school.  I was just heartbroken.  When I got home from school, my mom's car wasn't in the garage so I assumed no one was home, so I just let loose.  I mean, I was sobbing uncontrollably, you might even say I was wailing, just trying to express some of the overwhelming grief in my heart.
Much to my dismay, my mom comes flying out of the office and runs to me and asks, what is wrong, Lamb?   (My parents called me 'Lamb' – a lot as a nickname of sorts, because my middle name is Rachel, which means little lamb.)  When she called me little lamb, I fell apart utterly.  I told her a little about what was going on, not much, since I was still a teenager, but one thing I did do: I crawled into her lap and cried.  I was 17 and gangly like a string bean, already taller than my mom, but I sat on her lap and cried into her shoulder knowing that, even if the whole world abandoned me, my mama never would – or my dad, or even my ornery brother.  When I think of that moment even now, I am overtaken by love.  I wrote most of this sermon sitting in Panera, and as I typed this, I started to cry receiving some strange looks from some of the other patrons.
A love like that, a love that embraces you without abandon – transforms.  When we receive God's love for what it is: as the ultimate self-giving love – we are drawn up into that love.  As you likely know, we tend to become like that which we love.  We become imitators of God and live lives of love.  As we respond to God's love by loving God in return, we become more and more like him, more Christ-like.  We are sanctified holy by the power of that love.  That twisted, bent disposition; that broken orientation toward self; is realigned.  We are healed from that inbred crookedness and made straight by God's love.  We are made holy.
Some people talk about being holy as something foreign to human nature.  Some talk about being sanctified as something inhuman, unearthly, something contrary to nature: something that is awkwardly imposed upon us, like an ill-fitting shirt.  In reality, the more holy we become, the more human we become.  Did you hear that?  The more holy we become, the more human we become.  God's intention for us has always been holiness.  It is, in fact, what it means to be truly human – it is a gift.  Holiness is a gift.  It is not earned – it is not something you "choose" to be.  It is a gift.
However, some people are more ready to receive this gift than others.  John Wesley didn't just talk about Christian perfection; he also talked about means of grace.Those who put these means of grace into practice by doing things like: practicing prayer, reading Scripture, serving others, denying oneself, looking for God's grace all around – are like really attentive gardeners.  They are constantly attending to the soil of their soul, tilling it, watering, weeding, fertilizing it in order to be as available as possible when the True Gardener, the Vine Dresser, comes to do his work in us.  They are ready.
Wesley felt very strongly that God would not do this work in us, this sanctifying work, without us.  This sanctifying grace has been described as synergistic, which basically means – cooperative.  We don't sit there in total passivity waiting to be fixed.  We actively seek to be more and more like Jesus, not to earn anything or to try to achieve holiness in some way, but as an act of obedient love, trusting God to be faithful to heal and transform.
Paul says in Colossians, chapter3,
"So if you have been raised with Christ, seek the things that are above, where Christ is, seated at the right hand of God. Set your minds on things that are above, not on things that are on earth, for you have died, and your life is hidden with Christ in God. When Christ who is your life is revealed, then you also will be revealed with him in glory.
Put to death, therefore, whatever in you is earthly: fornication, impurity, passion, evil desire, and greed (which is idolatry). On account of these the wrath of God is coming on those who are disobedient. These are the ways you also once followed, when you were living that life. But now you must get rid of all such things—anger, wrath, malice, slander, and abusive language from your mouth. Do not lie to one another, seeing that you have stripped off the old self with its practices and have clothed yourselves with the new self, which is being renewed in knowledge according to the image of its creator. In that renewal there is no longer Greek and Jew, circumcised and uncircumcised, barbarian, Scythian, slave and free; but Christ is all and in all!
As God's chosen ones, holy and beloved, clothe yourselves with compassion, kindness, humility, meekness, and patience. Bear with one another and, if anyone has a complaint against another, forgive each other; just as the Lord has forgiven you, so you also must forgive. Above all, clothe yourselves with love, which binds everything together in perfect harmony."
Paul also tells us in Romans 13, that "love is the fulfillment of the law," love for God and love for neighbor.  In 1 John 4:7, we are told:
"Beloved, let us love one another, because love is from God; everyone who loves is born of God and knows God. Whoever does not love does not know God, for God is love. God's love was revealed among us in this way: God sent his only Son into the world so that we might live through him. In this is love, not that we loved God but that he loved us and sent his Son to be the atoning sacrifice for our sins. Beloved, since God loved us so much, we also ought to love one another. No one has ever seen God; if we love one another, God lives in us, and his love is perfected in us."
Holiness is not a solitary endeavor!  How we live together in community is evidence of our being sanctified…or not.  Wesley said, "Holy solitaries' is a phrase no more consistent with the Gospel than holy adulterers. The Gospel of Christ knows no religion but social; no holiness, but social holiness."
So what?  What are we actually supposed to do now?  The first thing we must do is be honest with ourselves about those things that ensnare us, those things that captures us and turn our hearts away from God and inward – toward self.  If you haven't confessed them to God, you need to do that, now.  Repent and receive God's forgiveness.  However, there's more.  Forgiveness isn't the end.  God's will for us is freedom: freedom from the sin that so easily entangles us.  In the same way that you want the absolute best for your children, your nieces and nephews, God wants the best for you…freedom in perfect love.  There are some who would say that God will do this transformation, this sanctification in a moment – in fact, they insist upon it.  Others equally would say it's a gradual journey, a process.  Why can't it be both/and?  I will acknowledge that there is that initial moment when you recognize and say "yes" to God's call to holiness: but only if you allow me to say that there are 1,000 or more "yeses" yet to come.  The sanctified person is not immune to reverting back to that self-centered nature either, she must say yes time and time again, that dying to self daily.
"I appeal to you therefore, brothers and sisters, by the mercies of God, to present your bodies as a living sacrifice, holy and acceptable to God, which is your spiritual worship. Do not be conformed to this world, but be transformed by the renewing of your minds, so that you may discern what is the will of God—what is good and acceptable and perfect."
I had a professor once who said, "the thing about a living sacrifice is that it keeps crawling off the altar."  We must say yes, yes, yes, yes.  By the power of the Holy Spirit at work in us, we can say yes, yes, yes, still yes.
God might be speaking to your heart today.  You might have that weird feeling in your stomach, or you might still be caught up in your unworthiness.  Just say yes.  God's arm is not too short to save.  I won't fill your head with this questionable ideas of holiness that says you'll never stumble again, you'll never be tempted again, you'll never make a mistake again.  That's not true.  However, I do believe that God can and will empower you to stand up under the devil's schemes.  If God is calling to you, please don't wait.  Don't live as a slave to sin.  John Wesley said, "To be holy is to be happy."  Just say yes and experience God's great love for you.