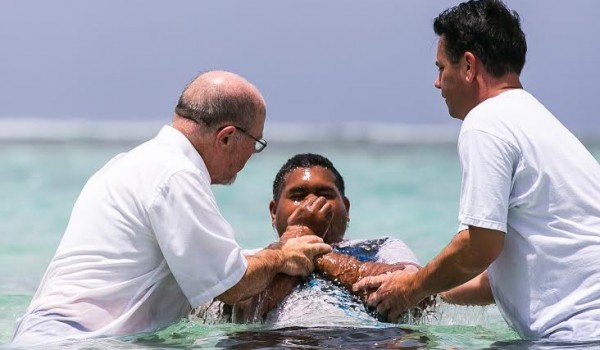 This post is also available in: Francés Inglés
Walking across the cold, hard, muddy yard, my eye catches a glimpse of the smallest, bright green blades of grass beginning to break through the ground to signal the beginning of Spring – renewal, new life … hope!
On Easter Sunday, at the end of our fasting and repentance of Lent, many congregations will celebrate the resurrection of Christ with the baptisms of new believers. These new Christians are the new life of the church – pushing up through the impossible odds of life, old habits, and the pull of sin.
Often baptism is celebrated simply as a choice of the new believer. Like a wedding, "I do, choose Jesus!" … but it is an outward sign of the inward work of God, who is transforming, redeeming, saving, adopting and accepting the new believer. The human participation is only a part of the story. Baptism is not just a ceremony of the church family.
Baptism is a sacrament, a means of grace — so much more than an earthly celebration of a humanly decision. How God works in and through baptism is a mystery of faith. That God's grace flows through infant and believer's baptism alike is made evident repeatedly by those who submit to God's Spirit and will in their lives. 

In baptism, there is a literal and a spiritual giving in. As the new believer gives in to the water, signaling their death to sin, and then is raised with Christ to new life, suddenly, the grass and flowers have burst forth with the sunrise to proclaim the resurrection of Christ at work in the transformation of the lost into the child of God.