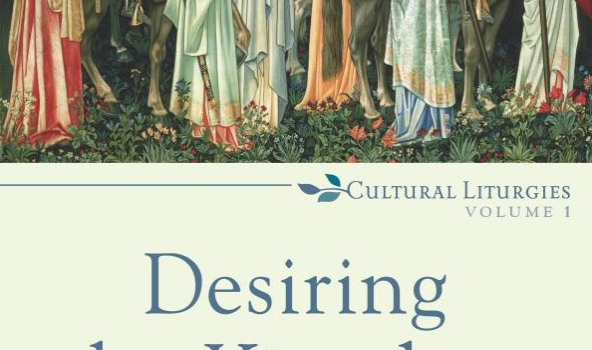 This post is also available in: Francés Inglés
Book Review by Timothy J. Brooks
James K.A. Smith is an educator in the Reformed tradition at Calvin College. It is clear from the beginning that he is tired of Christian Higher Education that forms people to do what everyone else is doing (living in the suburbs, driving SUVs, climbing the corporate ladder) but from a "Christian perspective." Smith argues that Christianity is an alternative politic oriented toward an alternate polis, yet what its institutions of higher learning provide is not an alternative to anything. Christian universities still tend to seek to build an affluent and influential alumni just as other schools do – then tags the appropriate line "from a Christian Perspective – to the work that feels all too much like secular academies.
Drawing from the work of theologians such as Alexander Schmemman, Smith makes an argument for a worship service marked by a liturgical narrative that shapes our worldview. Laying out the formational aspects of hearing the call to worship, receiving and giving offerings, baptism, singing, greeting one another in worship, hearing the word proclaimed, and celebrating the Eucharist, Smith argues that these activities do more than cause people to make a mental assent, but are formational of our behavior, pointing us toward the proper telos of Christian faith and life.
As a proper counter-balance to what Christian worship forms – or is aiming to form – Smith takes a look at the modern shopping mall. He notes the giant temple and chapels that each sends both overt and subliminal messages. The overt messages are these items can make you fashionable, happy, better. The subliminal messages are that these items, fashions, gadgets, styles could finally make you complete: the best version of you.
What Smith argues is that Protestants have so determined that right belief is what makes us Christian, that we have failed to understand what the shopping mall has come to understand. That it is not our brain that needs to be affected in order to woo us, but it is our subconscious life – our heart – that needs to be wooed. Deep within us we have desires and yearnings that are not simply connected to our brains or thinking processes (he notes at one point the "Secret" that "Victoria" is in on), but also what we yearn for or desire. These passions must be affected by Christian worship if we are to be formed as disciples.
Smith looks at the liturgies of patriotism/nationalism as examples of a counter kingdom that is forming people better than the church is forming people. People stand for the national anthem, memorize the Pledge of Allegiance (which he notes promises realized shalom, rather than a hopeful, expectant shalom), and watch propagandized movies about heroic national figures (The Patriot, Lincoln, Pearl Harbor, etc.). Never do these activities ask citizens to give their all for the sake of the nation, but people are wooed into what they perceive to be heroic, selfless giving of their lives to perpetuating the myth of the nation state. It is us who make the decision that this is noble, and as such, we are not compelled to do so. We want to, because our desires are reoriented.
Smith, then, calls the church to renew their liturgical work of reorienting our desires toward the Kingdom of God. This is not accomplished by convincing people, but by appealing to their senses, subconscious, and habits through strong liturgical worship. From there, he returns to his original question of the Christian University. His call is for the Christian University to use its unique communities as a space to practice many formational liturgies – in and out of the classroom.
Suggestions are made in the closing pages how continental philosophy or German literature classes could participate in liturgical formation, as examples. The points are well made and well taken. However, it strikes as too little too late. While the book offers a call to the university, much of the emphasis is placed on the work of the church.
As such, the book leaves the reader with the question as to whether this book was meant for educators in the Christian University or pastors trying to develop a counter-cultural liturgy that forms people against the predominant capitalistic, upwardly mobile, individualistic narrative their people encounter with each changing of the television channel or trip to the mall. The thesis tells us that the book would be prescriptive for the academy, but the writing seems to call the church to something then, in an appendix, offer how the University could join in. Perhaps that is the explicit purpose, to invite the academy to join the church in liturgical practices. However, it would have been welcome for a more expansive consideration of how the university, properly liturgical, could implement his general thesis. As such, the book strikes more as a call to pastors with an idea or two for educators to chew on, as opposed to the suggestion that this book is for the academy.
As a pastor, I found the book profoundly useful and challenging. It is a timely reminder that the world is no longer trying to appeal to the brain, but to the appetites of the heart through liturgical practices. It is high time that the church reconsider what it is attempting to form in those who yearn to be disciples of Christ, and ask whether or not its continued appeal to forming orthodoxy as the end in itself is ultimately actually yielding disciples of Christ or disciples of Capitalism and Nationalism (with a Christian Purpose!)
Timothy Brooks is Lead Pastor of South Portland Church of the Nazarene (Portland, Maine) and an Associate Editor of Preacher's Magazine.