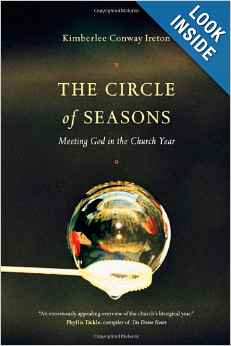 This post is also available in: Francés Inglés
The Circle of the Seasons: Meeting God in the Church Year
by Kimberlee Conway Ireton
Book Review by Levi C. Jones
Ireton notes that the Church year is split into halves – the story of Christ and the story of the Church. But, the Church year really is about the story of God. It begins with the long anticipation of God's coming, moving through the Incarnation. Through Lent and Holy Week, we journey with Christ toward the cross and his resurrection on Easter day (but which is celebrated for several weeks leading up to Pentecost). Pentecost is the story of the Holy Spirit empowering the Church to live like Christ. Finally, the Church year concludes with Ordinary Time (the daily grind of faithful living) that culminates in Christ is King Sunday, in which we look toward Christ's second coming. It is a cycle of preparation and celebration, fasting and feasting. Ireton concludes, "The church year has seasons of darkness, of light, of sorrow, of rejoicing, of just getting through."1
Time is sacred because God is present in it all. The Church year calls us to remembrance and reflection and re-enactment of this reality. The Church year orients us to God's way in this world and invites us into participation with God's redemptive, salvific work. It "helps us embrace the church's telling of time instead of our culture's."2 As Ireton notes, the "secular" calendar is centered upon consumerism. It is designed to make us consumers. I would go further and say that it is (at least in the American culture) centered on nationalism, militarism, individualism, and consumerism. There is a vested interest (generally a concern for power) for the world to shape us into its own image rather than the image of our Creator. The Church calendar allows our whole lives to be oriented around God's story and thus transformed by that story.
The Church year is communal. This goes against our rampant individualism. We are the gathered community living out the story of God together. We are also re-presenting the faith that has been handed down to us from the apostles. We recognize that we are part of the one, holy, catholic, and apostolic Church that has but one faith, one baptism and one Lord. There is a unity that is embodied in journeying together through the story of God in our world. This is a faith that is not novel, yet encounters the Living God anew. It does so by helping us to tell the whole story.
Advent initiates the Church year. It is a time of anticipation and waiting. I was unfamiliar with the first two Sunday themes being "wait" and "prepare." In my experience, we have generally made the themes: hope, joy, love, and peace. Then, the overarching theme was about waiting. Henri Nouwen's "active waiting" is an important concept. I think of it as "hopeful anticipation," in which we are living in the now-and-not-yet kingdom. To that end, we wait with anticipation while living into God's future. The fasting and feasting aspect of Christmas is important in this regard. The fasting prepares us for Christmas and the Incarnation. Our culture is impatient. Following Advent can bring us back to a sense of waiting and the building anticipation of the Incarnation. An Advent tree can be a helpful symbol that is then replaced by the Chrismon tree – barren death to evergreen life.
I appreciated the Feast of St. Stephen and the Feast of Holy Innocents. Incarnation is about humble servanthood (St. Stephen). We are reminded that much violence and pain are still in our world. The Incarnation is God's identification with that suffering, by which God walks with us (Feast of Holy Innocents). The Christmas season concludes with Epiphany, or the "showing." It is a season of light, where darkness is scattered. This is available to everyone (as indicated by the Magi). It is God's redemptive work for all of Creation.
Ordinary time, which makes up the majority of the Church year, reminds us of the daily grind of life. It is the counting of time ("ordinal"). But, the manner in which we count is important. It is not merely marking off days (kronos) but each day is filled with potential because of God's presence (kairos). God is at work, even in ordinary moments. Green is the color of the season representing "growth." We don't typically think of growth in the ordinary moments. Ordinary time helps us remember that all of time is interwoven with God's prevenient grace.
Lent is often associated with "self-flagellation." Ireton does a good job pointing out that Lent is about creating "intentional space" (through fasting and repentance) so that we might be filled with what God has for us. Beginning with Ash Wednesday, we are confronted with our mortality and our need for God. That is the beginning of the wilderness journey, where we walk with Israel and Jesus through the desert, learning what faithfulness is along the way. Lent is also about charity – divulging ourselves of our excess so that we might share God's good gifts with others. Lent, going into the Triduum, is also a time of increasing darkness. This culminates in Jesus' death and entombment. This season reminds us, we are called to die with Christ.
Easter is a celebration of seven Sundays which ends with Pentecost. Easter is connected with Passover, while Pentecost is connected to the giving of the commandments. It is about both salvation from oppression and deliverance, and empowerment to live in the world on God's terms. Easter and Pentecost are parallels to these Jewish holidays, for we both experience salvation from death, and empowerment through the Spirit to embody Christ to the world. Pentecost ends with Trinity Sunday, which reminds us that God is community and also that God's salvific work is the work of the Triune God – Father, Spirit, and Son. All of God is made available to us and we are joined to God as the Body of Christ. Ireton digresses into a conversation about speaking in tongues. Unfortunately, she does not take into account that the surrounding crowd (of many nationalities) could understand the gathered disciples in their own language. It was not some special language. It was prophetic (truth-telling) speech in the language of those gathered. It was a reversal of the division at Babel.
Ireton's treatment of Ordinary time is very sparse. She focuses on mystery in mundane moments, but doesn't go very deep with this insight. It seems that the cultural liturgies of the Church, the rhythms and practices of daily obedience, would be helpful to focus on through Ordinary time. We are not saved by those practices, but we are habituated into a way of life. After all, most of our lives are spent in the ordinary moments. It is in the ordinary moments that character is developed and established. Although mountain-top experiences are wonderful, they are fleeting moments that then move us to walking in the valley. Christ is King is the end of this season. We anticipate Christ's second coming and proclaim him as King. Then, we begin the journey all over again.