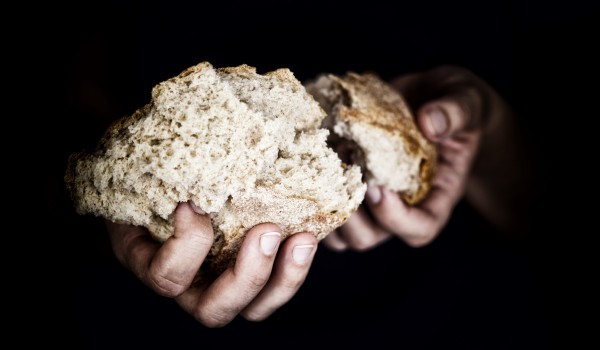 This post is also available in: French Spanish
A Sermon for Holy Communion
He Feeds Us
by Cathy Cox,
1 Kings 19:4-8, Psalm 34, John 6: 24-35
As the story opens, we find Elijah in the wilderness, full of self-pity.  He had just won a great victory over the priests of Baal, defeated Ahab, and "the Lord was with Elijah."  Nevertheless, when Ahab's wicked wife, Jezebel heard it, she was furious.  So off he went three days into a deserted place, sat down "under a solitary broom tree" and asked to die. No food, no water, alone, he lies down to wait to die.
You can imagine God's amusement!  Well…angels will give him food and water. But God didn't send the food because of Elijah's faith, but in response to his fear and mistrust.  God provided him nourishment because Elijah had given up. And then the angel says, "Get up and eat – otherwise the journey will be too much for you." 
Elijah got up, ate and drank, and then he "went in the strength of that food 40 days and 40 nights to Horeb, the mount of God." 
Look at the Gospel reading for a moment. The passage begins with a reference to Jesus' feeding of 5,000 people in response to Philip's anxious observation that, "six month's wages would not buy enough bread for each of them to get a little." Of course you will remember that Jesus gave them far more than they could even eat, so that there were 12 large baskets of food left over.  But he did it not because his disciples had trusted that he would, but because they feared he could not!
And in today's gospel you see that some of those very people, ones who had eaten their fill the evening before, are now asking Jesus, "What sign are you going to give us then, so that we may see it and believe you? Our ancestors ate Manna in the wilderness…"
Well, yes, God did feed them there. But do you remember this? God didn't give them food in the wilderness in response to their faith, either! God gave it to them because they mistrusted him, too.  In fact, God's own people, who had seen God set them free from slavery, defeat the Egyptians and led them safely across the Sea, now accused God of wanting to kill them!  "If only we had died by the hand of the Lord in the land of Egypt, when we sat by the fleshpots and ate our fill of bread; for you have brought us out into this wilderness to kill this whole people." It was then, in response to their panicked un-faith, that God responded with manna and quail.
Elijah went forty day and forty nights – which is to say a long, long time, "on the strength" of the food and water God provided him. I hope he remembered, in those days, how his ancestors had gone forty years, a very, very long time – on the strength of the daily manna and quail that God provided for them.
Did Elijah remember that, as he went across the wilderness to Horeb? Probably not. Most of us have pretty short memories of all that God has done for us, and for our ancestors in faith.
And it's clear enough that a single night was enough to make some of Jesus' Jewish friends forget. It seems weird. They had seen him take a few fish and a little bread and from that give food to thousands. They knew he could do it. They saw it.  They ate the bread and fish themselves.  But next morning, there they are asking how they could know Jesus could be trusted, how they could believe in Him.
And they even used the story of the Exodus to ask, which is even funnier, or sadder. God had provided manna and quail. Jesus had given them bread and fish. And they didn't see it. They didn't even see that God had done it again.
"Taste and see that the Lord is good – happy are those who trust in him" Ps 34:8
Check it out. "Taste" and see if God is good.  You are happy, blessed, glad, and confident if you discover this. God will care for you you even if you don't relax in his care, but you will be "happy" when you trust him to care for you.
Jesus claims to be, himself, the true bread from heaven, the bread of God which comes down from heaven to give life for the world. Manna and quail will keep you going for a long time; so will bread and fish. But all who ate those signs of God's goodness eventually died.
Jesus says that he is bread that give life to the whole world. He says, "I am the bread of life. Whoever comes to me will never be hungry, and whoever believes in me will never thirst."  And just a few verses farther long, in response to more arguing, he says, "I am the living bread that came down from heaven. Whoever eats of this bread will live forever; and the bread that I will give for the life of the world is my own flesh." (John 6:50-51)
So if he came to give life to the whole world, and if he provided enough for all the whole world when he gave  his own flesh, well, then there's enough right now for you.
This is why we celebrate communion; it is why we take ordinary bread, and ordinary drink and break it, bless it and share it as we remember the whole story. We remind ourselves of the manna given to the first people of God escaping slavery. We remember the food given to Elijah by the angels. We remember again and again that God has given us God's eternal gift of Jesus, the true bread.  We remind each other of Jesus' life laid down for us: his own flesh, the body and blood of Jesus.
And if Jesus IS that bread, then he is for eating, for consuming; He nourishes us himself; he is for us the very life we live and the life we offer each other forever.
We receive him in our worship and in communion; we receive him as he is revealed in scripture and in the preaching; we receive that food in singing; we welcome and are nourished by his very life in all who are also part of his body given for us. And that is each of us. We are food for each other's journey, as we now are members of the living body of Christ given as bread for the world.
"Taste and see that the Lord is good – happy are those who trust in him – "
Cathy Cox serves as Vicar, St. Alban's Episcopal Church, (Bolivar, MO). She is a graduate of Nazarene Theological Seminary.