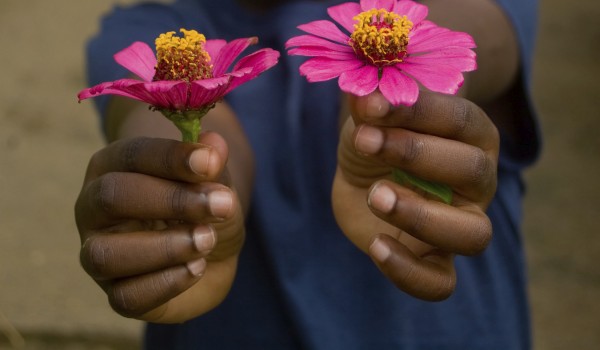 This post is also available in: French Spanish
Series Title: Humbly Receive, Lovingly Give
Sermon 4: "Lovingly Give"
By Lisa and Samuel Aparicio
Passage: Romans 12:9-21
Sermon format based on the Four Pages of the Sermon, by Paul Scott Wilson.
INTRODUCTION (Pastor Lisa)
So we've reached the finale of our sermon series on the spiritual gifts.  When we were preparing this series Pastor Samuel and I talked about whether to just cover the first eight verses of Romans 12 or the whole chapter.  We came to see that the last half of the chapter was crucial to the effective use of the spiritual gifts themselves.  Which is why we titled the series, Humbly Receive, Lovingly Give.  This chapter is teaching us that just as we need to see humility as a foundational piece for receiving the spiritual gifts we need to recognize love as the necessary spirit in which we share those gifts with others.
Also, we prepared this sermon before we knew about the decision to be made by the Supreme Court this week.  While the subject of that decision isn't the focus of our sermon this morning, our response to it couldn't be more applicable.  In your bulletins you probably saw an insert with a response released by the Board of General
Superintendents of the Church of the Nazarene.  We'd like to start our sermon by reading just the closing words of their statement.
"We further call our people to a generosity and graciousness of spirit that extends kindness to those who do not share our belief. We pray that God will help us be examples of His truth in a world that needs to see God's love demonstrated in word and deed more than ever."
God's love.  It is a love that welcomes all.  It is a love that calls us to identify our own need for grace and forgiveness before casting a stone at others.  It is a love that led Jesus to gain the reputation of being a friend of sinners.  It is a love that can make a radical difference in our world, perhaps now more than ever before.
Just as last week we paid attention to Paul's repeated connection of the spiritual gifts with the body of Christ.  This week we are giving attention to his repeated connection between the spiritual gifts and love.  Love is not as prominent in the Ephesians passage as it is in Romans and 1 Corinthians, but it is there.  Moving to the 1 Corinthians passage, did you hear the claims made in that passage when Rindy read it for us earlier?
Prophecy, one of the gifts from Pastor Samuel's sermon two weeks ago.  Paul said, "If I have the gift of prophecy and can fathom all mysteries and all knowledge, and if I have a faith that can move mountains, but do not have love, I am nothing."
Or giving, one of the gifts from my sermon last week.  Paul said, "If I give all I possess to the poor and give over my body to hardship that I may boast, but do not have love, I gain nothing."
We see the very gifts identified as being given to us by the Holy Spirit counting for nothing if we don't have love.
Love matters.
It is how we are called to live.
It is the essence of who our God is, God is love. 1 John 4:8 "Whoever does not love does not know God, because God is love."
Love matters, but it is not easy.  As we prepared for this sermon I honestly started to get quite overwhelmed at how far from that identifier of love the church can be at times.  It seems that the more complicated life gets the less compassion and love is brought to bear in those complicated situations.  It reminded me of the very cute and yet very true poem "All I Really Need to Know I Learned in Kindergarten".  In part it reads:
All I really need to know about how to live and what to do and how to be I learned in kindergarten. Wisdom was not at the top of the graduate-school mountain, but there in the sand pile at Sunday School. These are the things I learned:
Share everything.
Play fair.
Don't hit people.
Put things back where you found them.
Clean up your own mess.
Don't take things that aren't yours.
Say you're sorry when you hurt somebody.
Wash your hands before you eat.
Flush.
Warm cookies and cold milk are good for you.
Live a balanced life – learn some and think some and draw and paint and sing and dance and play and work every day some.
Take a nap every afternoon.
When you go out into the world, watch out for traffic, hold hands, and stick together.
Be aware of wonder.
How is it that these basic rules of respect and love and kindness that we teach our children get set aside in the face of our grown-up, complicated problems?  Shouldn't respect and love matter even more as the stakes get higher?
As we study our passage this morning we are going to see Paul's response to the Roman church regarding the complicated problems they were facing.
Let's read our passage for today from Romans 12:9-21 (NIV).
9 Love must be sincere. Hate what is evil; cling to what is good. 10 Be devoted to one another in love. Honor one another above yourselves. 11 Never be lacking in zeal, but keep your spiritual fervor, serving the Lord. 12 Be joyful in hope, patient in affliction, faithful in prayer. 13 Share with the Lord's people who are in need. Practice hospitality.
14 Bless those who persecute you; bless and do not curse. 15 Rejoice with those who rejoice; mourn with those who mourn. 16 Live in harmony with one another. Do not be proud, but be willing to associate with people of low position. Do not be conceited.
17 Do not repay anyone evil for evil. Be careful to do what is right in the eyes of everyone. 18 If it is possible, as far as it depends on you, live at peace with everyone. 19 Do not take revenge, my dear friends, but leave room for God's wrath, for it is written: "It is mine to avenge; I will repay," says the Lord. 20 On the contrary:
"If your enemy is hungry, feed him;
   if he is thirsty, give him something to drink.
In doing this, you will heap burning coals on his head."
21 Do not be overcome by evil, but overcome evil with good.
PAGE 1 – The Problem in the Text – Division (Pastor Samuel)
Paul's letter to the church in Rome is no ordinary letter you or I might write to family or friends – it is long and it is filled with doctrine and theology. But it was written for a purpose, and it was written by Paul to deal with one of the main problems the early church faced, not only in Rome, but wherever the church had spread. It was the problem of division.
The majority of the first Christians, including Jesus' 12 disciples, were Jews, both ethnically and religiously. As Paul writes in other parts of Romans, they were the first to receive the good news that Jesus had come to do something completely new – Jesus had come to fulfill the promises of God and fulfill the law of Moses. Jesus was born a Jew, after all, so it is natural that this group heard his message first. But over time Christianity spread to the Gentiles, a term which simply means people who are not Jewish, and they began to join the church.
This is where it began to get tricky for the church, because suddenly you had people worshiping together who did not all look alike and who did not all think alike or have the same traditions. Arguments began to crop up about whether new Christians needed to become Jewish first before being accepted into the church, whether they needed to go through the specific Jewish rituals all Jews had to go through. Also, who had more authority? The Jewish Christians who heard the gospel first. Or the Gentile Christians, who had not rejected Jesus at first as many Jewish people had and had not failed at keeping the law. Wasn't Jesus a Jew? Yes, but he came to preach the good news to everyone, and he strongly condemned the Jewish religious authorities on many occasions.
Even the leaders of the church had to step in and deal with this issue. In the book of Acts chapter 6 we have an account of Hellenistic Jews, those who were Jewish in their religion but Greek by ethnicity, complaining that the Hebraic Jews, who were Jewish both in religion and ethnicity, were overlooking their widows in the handing out of food. Sounds complicated? That is because it was – the church started out simple. Chapter 2 of Acts paints such a wonderful picture of the early church where, "All the believers were together and had everything in common. They sold property and possessions to give to anyone who had need." But as the church grew and more people joined, it started to get messy, it started to get complicated.
Paul, whose missionary heart wanted the church to support the missionary work of starting new churches in parts of the world which had not yet been reached, saw these problems and sought to address them with this letter.
PAGE 2 – The Problem in Our World – Divisiveness (Pastor Lisa)
Sadly, we humans seems to have the same struggles today as they did back then.  The church and our world have only continued to become more diverse and more complicated since the time when Paul wrote the letter to the Roman church.  We all come from our own backgrounds, with our own ways of doing things, our own prejudices, our own preferences, insecurities and fears… all of those shape who we are and the lens through which we see our faith and others.  Even if we just look at our little corner of the Christian family, in the Church of the Nazarene we have nearly 2.3 million members worldwide who make up over 29,000 local congregations and speak over 200 different languages in 159 world areas.
That is a lot of diversity and diversity is good because it helps us remain concerned with realities beyond our own.  However, diversity without love for the other generally leads directly to divisions.  So if diversity isn't the problem nor uniformity the goal why are we so quick to vilify those who think, act, or look differently than we do?
Such responses hinder the work of the body of Christ.  Just as Paul saw the divisiveness in the church as a barrier to the missionary outreach of the church, the same is true today.  We drive people off who have God-given gifts that we need in the church, when we speak with a judgmental attitude that says if you don't agree with me you can go somewhere else.  As we read in 1 Corinthians 13 we even rob our God-given spiritual gifts of their power when we put our differences ahead of God's gracious love.  What happens is that our faith proclaimed in words ends up looking very different from our faith lived out in our deeds.
Have you ever shaken your head or maybe even cringed while reading comments by Christians online or in the news that just exude hate?  How about posts and comments on social media?  How often do we check ourselves to make sure our actions there are holy and pleasing sacrifices to God?  Do our interactions with our waiter/waitress and other service providers depend more on our desires or feelings that day or on being a blessing to that person?
What about when a fellow Christian disagrees with me?  "As far as it is in me" do I try to find a way to live peaceably with them?  What is my response to fellow believers from other cultures whose daily life looks vastly different from mine and in turn their faith looks different than mine?  Do I seek to understand or just judge from afar?
If we aren't showing love, seeking to live peaceably and extending kindness to other then we have lost our focus on reaching the world and we are rather content on just feeding our little group of "Hebraic Jewish widows", borrowing the reference from Acts 6.  To quote a Jewish rabbi, "The problem is not that people have no empathy but that they limit their empathy to a tiny circle of humanity."
Love matters.
PAGE 3 – The Good News in the Text: Sincere, UN-hypocritical Love (Pastor Samuel)
Paul's answer then to these divisions which can so easily negate the unity of the body of Christ is found in verse 9: Sincere Love. This is a love that is un-hypocritical, love that is not two-faced, love that says what it means and means what it says, love that talks the talk and walks the walk. Paul, for all of his wonderful theology, was a very practical preacher and church leader – he knew that the Christian faith was to be founded not only on ideas but on deeds. That is what this morning's passage is describing – sincere love which hates evil and holds on to what is good. Love which honors others above ourselves. Love which shares with those in need and practices hospitality. And Paul here is of course referring to the love which only comes from God, the self-less, giving love which was displayed on the cross for the whole world to see.
We saw in last month's sermon series on the Ten Commandments that our relationship with God is one of action on God's part and response on ours – God chose Israel first and rescued them from slavery, and their appropriate response was to live according to the guidelines God gave them in the 10 commandments – not to gain God's favor, but to show their thankfulness and love for God. And in our Romans passage we see the same pattern – we began three Sundays ago in verse 1, "In view of God's mercies…" "offer this worship." But our response is not only focused on God but must also focus on others. If God grants his grace first to us, before we have even had an opportunity to earn it or do anything to merit it, we are to follow this pattern in our relationships with others. "13 Share with the Lord's people who are in need. Practice hospitality. 14 Bless those who persecute you; bless and do not curse."
"Live in harmony with one another" means to literally have the same mind as one another – the same renewed mind which God through the Spirit is producing in us as we submit as living sacrifices is to be in each of us. Paul echoes Jesus' teaching on loving everyone, even our enemies. For the Christians in Rome and the early church this was not just loving enemies who had opposing agendas or views – it meant loving those who were actually persecuting, actually jailing, even killing their sisters and brothers in Christ.
This sincere love would then serve as the foundation where the spiritual gifts could flourish. Without the foundation of love the Jewish Christians might choose to only use their gifts to help those who looked, spoke, and acted like them. The Greek Christians might choose to only use their gifts to further their house churches and reach out to those who looked, spoke, and acted like them. But if God's sincere, unconditional, un-hypocritical love was governing them, they did not have this choice. Paul wanted the Roman church to understand that the gifts which God poured out on their lives, these gifts of proclaiming, serving, teaching, encouraging, giving, leading, and showing mercy, were to be used to bring unity in the body of Christ, and through this unity, reach out to those who had not yet experienced God's love.
Page 4 – The Good News for Us (Pastor Lisa)
This message of love shouldn't be new to you if you've been in our church here for a while or have read the bulletin or visited our church website.  Each of these provide you the opportunity to hear our vision statement which is "Receiving the Love of God, Growing in the Love of God, and Sharing the Love of God."  Sincere love is something we want to characterize our faith journey here at Harrisonville Church of the Nazarene.  Notice that we don't want to just receive and grow in God's love, but we are to be challenged to share that love with others and in the context of this sermon series in particular we are focusing on sharing that love through our spiritual gifts.
Imagine with me a church that is known by its love.  We still strive to live holy lives, we still have our convictions, we still bring our unique backgrounds and personalities with us but we don't exclude others just because they are at a different place in their faith journey and their relationship with God.  We don't exclude those who look, think, or act differently than us.
Imagine the transformative power of a prophetic word shared in the safety of a trusting and genuinely love filled relationship.
Imagine the influence of a teacher who unfolds biblical truths with loving patience in open conversation with his or her students.
Imagine the opportunities made available for life-giving encouragement when God's loving-kindness is extended to everyone you interact with.
Imagine the powerful witness of a church showing genuine love and mercy to everyone even those we don't understand, those who think, act, and look different than us.
Romans 12 challenges us to embrace a genuine love which hates evil and holds on to what is good, a love which honors others above ourselves, shares with those in need and a love that practices hospitality.
This kind of love allows our diversity to strengthen our testimony rather than cause division and that unity allows for our spiritual gifts to truly work together for the good of our community and our world.  While identifying our spiritual gifts are important, they won't have much effect if they are not received in humility recognizing they are gifts from God and if they are not shared with others out of sincere love for them recognizing every person as someone created in the image of God and worthy of love.
Lisa and Samuel Aparicio serve on staff at the Harrisonville Church of the Nazarene (Harrisonville, MO). Additionally, Lisa serves as Ministry Development Coordinator for Nazarene Youth International and Samuel serves as an Associate Editor of Preacher's Magazine.