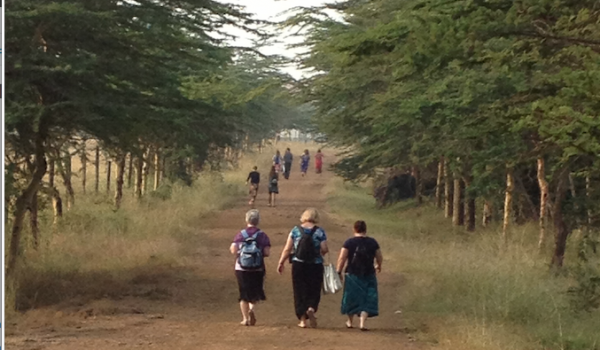 This post is also available in: French Spanish
Rev. Vipul Kharat,
Pastor, All Nations Nazarene, Auckland, New Zealand
Scripture: Luke 24:13-35
Introduction
The journey on the Emmaus Road the two friends undertook on that first Easter morning is familiar to all of us.   However, is there any relevance of this story to people like us today?
Many of us have travelled that road emotionally and spiritually.  What has helped us looking back on our journey is that Jesus was with us all the time.  Perhaps our eyes had been kept from seeing him for one simple reason – that the source of solutions to our problems is not necessarily tangible.  We can not always find our security in the things that can be seen with our naked eye, heard with physical ears, tasted with our tongues, smelt with our noses or felt in our bodies.  The true solution requires reasoning coupled with faith and hope coupled with love.
Let's join them on their journey…
They had walked away from the situation. "…as you walk and are sad" (Luke 24:17)
It's like the movie where the loving, caring, protective protagonist hero, who has engaged your thoughts and emotions during the film, at the end abruptly, sadly dies leaving a feeling of sadness in your heart.  The story that you have identified with – ends tragically leaving you disappointed.
In real life also, when disappointed, people walk away from the situation.  Whether it's a marriage, relationship, job or church – it seems when people's expectations are not met – they quit, get divorced, or change jobs and churches.  Yes, our expectations are important because they set the tone for the decisions we make in life.   We struggle to adjust to the sudden change that the un-met expectation throws at us.
This rapidly changing world sucks us into the oblivion of more and more – faster and faster – latest and the best.  We expect it, and we are prepared to pay for it – if not by money then something else.  Ravi Zacharius reminds us: "When that which you think is the ultimate – that ultimate has been delivered to you – but that ultimate has let you down – that's the loneliest moment in your life."
Their security was based on "Unholy Reasoning":  "So it was, while they conversed and reasoned…"  (Luke 24:17))
The dictionary defines the word "reasoning" as; "use of reason, especially to form conclusions, inferences, or judgments".  As the two on the road to Emmaus reasoned with each other on the basis of their own evidence, they reached a conclusion that, since this Jesus had now been killed, all their dreams had shattered.  The rug had been pulled out from under their feet.  Their "Utopian Jesus Kingdom" dream had been shattered.
As important and as necessary is reasoning, it becomes unholy reasoning when NOT accompanied by faith.  When Jesus Christ calls us to follow Him, He calls us to look beyond what is apparent.  Jesus reminds us that we walk "not by sight but by faith."  People solely driven by reasoning often deprive themselves of the evidence of the things that cannot be sighted with a naked eye.
Their hopes had disappointed them; "…but we were hoping…" (Luke 24:21).
As their conversation goes on, they admit their hope had disappointed them.  A displaced hope always brings disappointment.   In Romans 5:5, the Apostle Paul reminds us; "hope does not disappoint, because the love of God has been poured out within our hearts through the Holy Spirit who was given to us."  Our hopes can only be credible and secure when they are filtered through the love of God – constantly assuring us not to worry and not to give up. God, regardless of how disastrous our situation seems or how out of control our life has become, loves us.  It's NOT always as it seems!
Jesus joined them on their journey.  Then, their eyes were opened and they knew Him; and then, He vanished from their sight.
Jesus doesn't seem to have abandoned them on the road.  He travelled the distance with them.  He listened to their story all along.  It seems as if His plan was to tell them that He always does what He says He will.
Conclusion
Despite our own view of life, He offers His own presence: walks with us in our doubts, challenges, tragedies, hurts and broken dreams.  We are forever changed when we recognize His presence! Our hearts begin to burn within with joy and hope; we even find strength to return back to the place where it all started.
As Martin Luther reminds us: "Sometimes God hides himself in order to reveal himself."
Note:  Preachers' Magazine, Assistant Editor, Rev. Annette (Taft) Fraser grew up in this church.  It was the first Nazarene Church established in New Zealand.