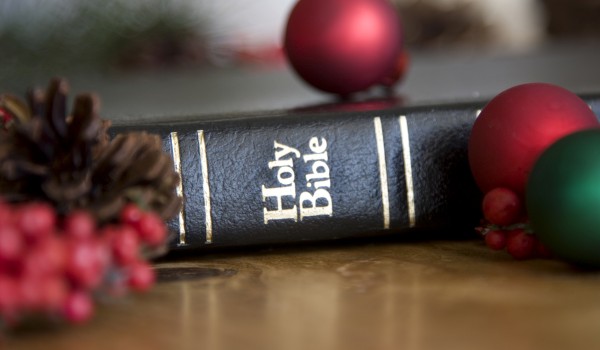 This post is also available in: French Spanish
Rev. Robbie Bender-Cansler
The church I pastor is a year old multi-ethnic, intergenerational, urban congregation. We believe that in order to best embrace and embody the body of Christ, we must embrace our differences. That each person present has something to offer, regardless of age or background. Because our worship service incorporates a variety of ages, my sermons include interactive illustrations to help engage each person present. I've noted these illustrations in the following sermon based on Psalm 19 for the third Sunday following Epiphany. For this particular sermon, the nativity scene would still be present on the platform, with the magi present.
On Epiphany we explored the story of the magi. Their journey to visit the infant King. The magi are an interesting part of the nativity story, because they aren't really a part of the nativity, present at the birth of Christ, but show up later on. We enjoy seeing them in our nativity scenes however.
We love the magi. I've seen brawls break out over who gets to play the magi in Christmas pageants. But the brawl doesn't seem to end with being a magi, it continues with who gets to give Christ each gift.
Gold. Frankincense. Myrrh. Let's be real. Nobody wants to give frankincense, because nobody knows what frankincense is. Nobody wants to give myrrh, because it sounds like a horrible gift. But gold, now that's a gift everyone wants to give, or get.
You probably saw all the commercials during the Christmas season, and are starting to see the Valentine's day commercials. A beautiful gold bracelet, on the wrist of a beaming young woman declaring at the top of her lungs "He went to Jared!" Her mother in the background with a turkey "Ooooh, he went to Jared!". Or, maybe you see a couple bundled up in a sleigh and he reaches for a ring box, with a beautiful white gold ring, with a small solitaire diamond, followed by a kiss. Because "every kiss begins with kay".
We love the intrigue of pirates treasure. Movies like The Goonies, or The Pirates of the Caribbean or shows like Jake The Pirate, hoping that we too might find a map somewhere, with an X at the end. What do we envision in the box at the end of the map? (Pull out a jewelry box that looks like it could contain pirate treasure, and open to reveal gold coins) Well gold of course! Maybe some gems and pearls or something, but mostly we envision gold. Gold coins, gold jewelry, it doesn't matter, as long as it's gold.
It's no wonder that we want to be that magi. The magi that gives gold, because that's such a great gift to give. It gets the family talking, it gets us kissed, and it's worthy of adventure. Gold.
If I were to ask who here would like some gold? I imagine most of us would raise our hands.
But, what if I were to tell you that there is a gift that's more precious than gold? Some of you are thinking "of course there are… it's called diamonds." But that's not what I'm talking about either.
The text for today is Psalm 19, and it says this The heavens declare the glory of God;   the skies proclaim the work of his hands. Day after day they pour forth speech; night after night they reveal knowledge.They have no speech, they use no words; no sound is heard from them. Yet their voice goes out into all the earth, their words to the ends of the world.In the heavens God has pitched a tent for the sun. It is like a bridegroom coming out of his chamber, like a champion rejoicing to run his course. It rises at one end of the heavens and makes its circuit to the other; nothing is deprived of its warmth. The law of the Lord is perfect, refreshing the soul. The statutes of the Lord are trustworthy, making wise the simple. The precepts of the Lord are right, giving joy to the heart. The commands of the Lord are radiant, giving light to the eyes. The fear of the Lord is pure, enduring forever. The decrees of the Lord are firm, and all of them are righteous. They are more precious than gold, than much pure gold; they are sweeter than honey, than honey from the honeycomb. By them your servant is warned; in keeping them there is great reward. But who can discern their own errors? Forgive my hidden faults. Keep your servant also from willful sins, may they not rule over me. Then I will be blameless, innocent of great transgression. May these words of my mouth and this meditation of my heart be pleasing in your sight, Lord, my Rock and my Redeemer.
The Psalmist says "the decrees of the LORD are more precious than gold." The word of God is more precious than gold, it's sweeter than honey. It's perfect. That if we follow it, we will be restored, we will be refreshed, we will have joy, and there is a great reward if we keep them.
That sounds better than a little bit of cash, but how do we know what the law of the LORD is?
The law is vast in the Old Testament, there are a lot of do's and don'ts. God wants us to keep the Sabbath holy, but do not kill someone. In the Old Testament, and into the New, people tried their hardest to follow these laws. They would do everything within their power to keep every letter perfectly, and it failed miserably. It was impossible to do, and everyone had their own interpretation of what each law meant, and so often different teachers would say different things, and the people felt burdened by it.
When Jesus came, he came to fulfill the law. To be this embodiment of what the law was meant to be, and in Mark 12:29-31, he summarizes the law this way he says "The most important [law]," answered Jesus, "is this: 'Hear, O Israel: The Lord our God, the Lord is one. Love the Lord your God with all your heart and with all your soul and with all your mind and with all your strength.'The second is this: 'Love your neighbor as yourself.' There is no commandment greater than these."
The reason that the law is summed up in these two commandments, is because the law was supposed to be about relationship, a way for the people of God to have a relationship with God and with one another. A way for them to love God and love one another. Sometimes, however, humanity got in the way, and instead of making it simple, it got complicated.
We complicate things too, don't we? We allow sin to get in the way, to take over at times. So we make poor decisions, we let our anger get the best of us, we give into temptation, we focus on our selfish desires. We might still be licking our wounds of selfishness from the holiday season, where we put so much pressure on ourselves to be perfect, to give the perfect gifts, not out of love, but so people could say "oooh, he went to Jared" or to whatever store makes you look the best. Or we are licking our wounds of commercialism, where we felt like in order to have a Merry Christmas, we just have to have that thing.
But then we look at what it means to follow the law of the LORD, which can be reduced to this "love God, love others". What if we did this for a change? What if our focus was on doing these things, instead of giving in to our selfishness, instead of giving into consumerism, instead of giving into our addictions, our greed, our pride, our anger?
I think our new year looks bright if we do that. It looks filled with family, filled with joy, filled with confidence that we have overcome, filled with wisdom, and patience. Filled with all of the things that were listed by the Psalmist about following the law of the LORD.
I don't know about you, but I think a life of joy, peace, and wisdom, filled with beautiful relationships with God and others, is something that is definitely more precious than gold.
Rev. Robbie Cansler is an ordained elder in the Church of the Nazarene and pastors The Mission Church of the Nazarene in Hammond, Indiana. The Mission Church is an urban church plant, with a focus on multi-ethnic and inter-generational worship, which launched in 2014. Robbie is married to Mac who is an integral part of the ministry of the church. Together they believe true hospitality and laughter can change the world, and try to live that out in some way every day.