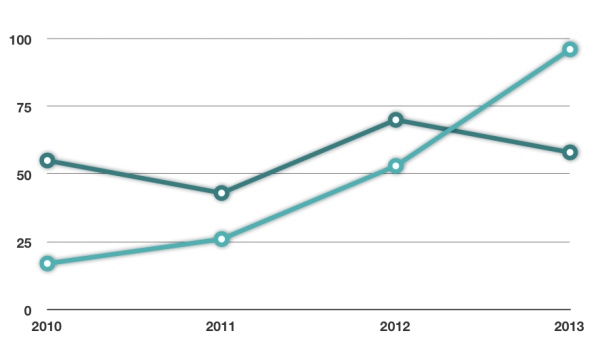 This post is also available in: French Spanish
Bruce G Allder
August 2013
Measurement of church health is often like a "burr in a saddle". Type into Google, "church health measurement," and see what pops up! A proliferation of assessment tools are found (once you have given your name and address and paid a membership fee of course). The perennial problem is finding the time to initiate and then to follow through on applying an assessment tool.
When we fill out our pastor's annual report, I wonder if the figures really reflect what my local congregation had been doing over the past year. Do the figures show the church to be healthy? Is it, in reality, healthy? Many times I am frustrated as figures do not appear to reflect what I feel sure is about to happen. Am I deluding myself, or are there signs that point to a positive future for the local congregation? What measures reflect the potential for the year to come and to engage in a healthy anticipation of a positive future? When I look at my local church and listen to reports, I hear a lot of what has been, and not a lot of where we are headed. The temptation is to measure only the end result that we seek. When the "end result" is still some distance away, reports can be discouraging. I struggle to find a way to identify steps along the way to the end result of increased church membership, financial giving, and church attendance. The outcome is often to share discouraging news, rather than find the seeds of encouragement to inspire people to engage in God's mission in His world.
It is my experience in Australia that measuring church attendance, church membership or finances, are often remote "end products". In a post-Christian, secular environment, these elements are at the end of a very long process of relational connectivity and discipleship. Very few pre-Christians would engage in their intentional spiritual journey using church attendance as a first, or even second or third step. In a culture that is suspicious (although not antagonistic) of Christianity, any attempt to bring church attendance into the process of pre-disciple making is viewed as "empire building" or, simply using people to create a larger institution. Even then, I wonder whether indicators such as church attendance and finances are appropriate indicators of effective mission. Often these figures reflect a redistribution of the Christian population as people move from church to church, while our congregations struggle to engage, or meaningfully relate to, the unchurched.
If we are to take our mission, "to make Christlike disciples in the nations" seriously, and I know that most of us do, what might be some indicators along the way to help us determine whether we are on track? Given that many people now, "belong before they believe", what markers could we use? What pointers along the way can be identified as encouraging points toward fulfilling our mission?
I need to acknowledge a couple of assumptions I make in this disciple making process.
Relationships are central. A simple consumeristic approach to Christianity does not require relational commitments. An incarnational "walking alongside" individuals is going to look a whole lot different to simply getting a verbal consent to an intellectually understood proposition, or a notional attendance at a programme.
Service to others will be an integral part of the life of the disciple – what is being done to look beyond the group so that servant-hood and service are a part of the DNA of the group?
A small group will spawn another small group as members' individual worlds are embraced by the original group, thus preventing an ever diminishing circle of exclusivity.
Lifelong learning where individuals are teachable and seek to know and experience more.
Doing life together where the 'stuff' of life is authentic and doable.
The Engel's Scale for discipleship, a common way of understanding the process of disciple-making, makes it clear that there are a number of steps along the journey before a person expresses a personal faith in Jesus Christ. Emergent church advocates have long been critical of the institutionalising of measurements that can become an end in themselves, or simply describe the institution.
However, what we measure may be determined by the place of development in which the local congregation finds itself. It is possible that a new community of faith, in the process of organising itself into a recognised church, may need to monitor different pointers than a congregation that is well established institutionally. Both have a set of benchmarks and parameters that are equally valid, but they are only valid for that particular situation. This poses the challenge of finding a universally recognised marker for both situations. Secondly, reporting often presupposes a traditional established congregation. What if we take the administrative definition of a church that the Board of General Superintendents has recently given us?
Any group that meets regularly for spiritual nurture, worship, or instruction at an announced time and place, with an identified leader, and aligned with the message and mission of the Church of the Nazarene can be recognized as a church and reported as such for district and general church statistics. (BGS 2011)
What markers do we look for in this less traditional concept? What do we see as signposts along the way for development and missional effectiveness? We can take attendance as one of those markers, but what else? How do we measure the degree that the missional DNA of the church is being embedded within this small body of believers? Are they in fact believers? Where are they on the Engel's Scale of Discipleship?
These questions are more than just trying to get the administrative decisions as close to reality as possible. They can be both points of encouragement of past achievement as well as declarers of intention to the way forward. Questions shape expectations and questions that focus only on end points can create a static, sedentary quality to the group. Answering questions that imply a dynamic quality or a, "yes, but not completely" ethos to the group, may help create a sense of journey and positive expectation for the future. Simply wanting more of the same (more members, more finances, etc.), will not necessarily lead to more effective missional engagement.
The following is my attempt to seek encouraging pointers toward missional effectiveness.
Number of people in the local community that have been reached at least twice in the past 12 months with relationship building as a goal, e.g. Men's Shed, Car boot sale, soup kitchen, Christmas activity, coffee shop ministry, car wash, … (The relational aspect)
Number of people in regular discipleship groupings where the focus is on spiritual nurture (Spiritual nurture and relational development)
Number of small groups, within the community of faith, for belonging as well as for being nurtured in their faith (spiritual nurture and relational development)
Number in a mentoring relationship for leadership development – who is the baton being passed to at every level of discipleship? (lifelong learning)
Number of people in a service project (doing life together)
Number involved in formal educational opportunities – seminars, intensives, courses at a college or online. (lifelong learning)
The number of people in shared meals together (doing life together).
These can be encouraging markers on the way of making Christlike disciples in the nations. This is not meant to be political spin, but authentic perceptions of God's Spirit at work in His world. I want to be able to report on signs of life and points of progress to a congregation that often wonders whether what they do matters. I want to shout from the roof tops, "Yes! It does matter!" I want to be a leader that can ask questions that point our people into the direction of mission and celebration of the Spirit's work in a world desperately needing a movement of God's Spirit in fresh ways.
Dr. Bruce Allder is Principal/President, Nazarene Theological College, Brisbane, Australia. He has pastored churches in Springhill, KS, in Sydney and Brisbane, Australia, has served as District Superintendent of the Australia's Southern District, and as Field Superintendent for Australia and New Zealand. Currently, Dr. Allder is District Superintendent of the Western Australia District along with his ministry as President of Nazarene Theological College in Brisbane, Australia.