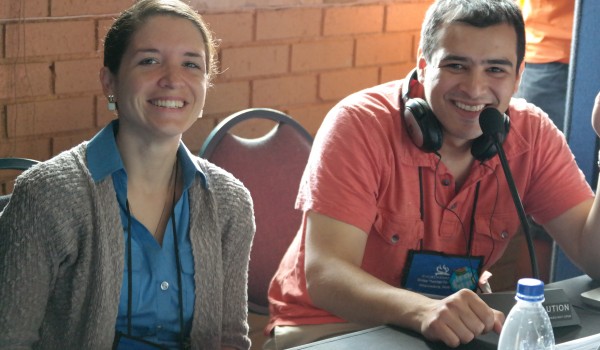 This post is also available in: French Spanish
Preaching through an interpreter?
By Juan Vázquez Pla
Those of us who have been involved, for some time, in translating and interpreting as a science and as a job, are acutely aware of how complex, at times, this may be. But you do not have to be an expert in order to preach effectively through an interpreter, if need be. The following do's and don'ts will help you to fare rather well when opportunity arises.
Do's
1. Spend some time with the person who is going to interpret for you in order to share with him or her your topic, how you have organized your sermon material, how the Scriptures to be used compare in both languages, and briefly review your sermon illustrations if any. This time together beforehand also allows for the two of you to become acquainted, and for the interpreter to get used to your language speech, tempo and pattern.
2. At the moment of preaching – use short sentences, and allow the interpreter to translate them into the recipients' language – preferably each sentence at a time. Long sentences, or too many sentences put together, for the interpreter, will most likely result in the interpreter doing quite a bit of "summarizing" for you.
3. Plan on covering your preaching material in half the amount of time that has been made available to you. A 15-minute sermon, when interpreted, will become a 30-minute sermon – not including the altar call. If the language of the preacher is synthetical in nature (English, for example), and that of the interpreter is analytical (Spanish, for example), make that probably a 35 or 40-minute presentation!
Don'ts
1. Avoid sermon illustrations that are too culturally related to your own culture, especially if you come from a developed or industrial country and you are addressing a congregation from a developing country (credit cards, bank accounts, GPS, etc.). Even if the interpreter manages to translate the illustration, it may not resonate well with the audience.
2. Avoid the use of poetic language, riddles, and idiomatic expressions. Metaphoric language does not translate well.
3. Avoid, at all cost, jokes or humor that is reflective primarily of your own culture. Jokes of such kind are almost impossible to interpret in such a way that will generate the reaction that it would have generated in a congregation of your own culture, education level, etc.
These do's and don'ts apply mostly to preachers travelling abroad, especially if you are going extremely cross-cultural (a Western world preacher preaching to an Asian world congregation, etc.), yet, some of them are also applicable to the increasing number of preachers who are being simultaneously translated into other language in any Sunday morning service because of the bilingual nature of their congregation.
If you are writing sermon material, or any other Christian literature that may be translated into another language at some point in the future, these do's and don'ts are also to be considered.
"A word fitly spoken is like apples of gold in a setting of silver" (Proverbs 25:11, ESV).