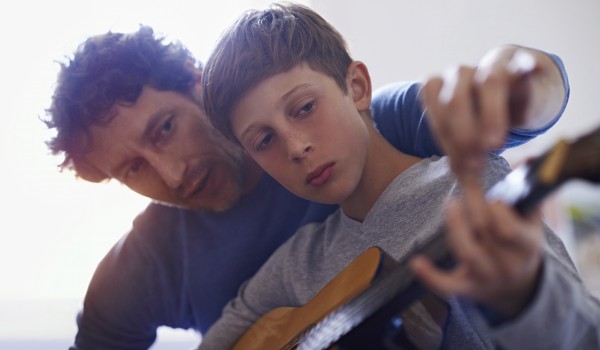 This post is also available in: French Spanish
Series Title: Humbly Receive, Lovingly Give
Sermon 2: "Proclaiming, Serving, Teaching"
By Lisa and Samuel Aparicio
Passage: Romans 12:3-8
INTRODUCTION
Last Sunday we started a new, 4-week sermon series on Romans 12 and spiritual gifts, "Humbly Receive, Lovingly Give", and Pastor Lisa and I began to lay the groundwork for understanding the why of our spiritual gifts. Why has God, who we proclaim to have created the entire universe, given us these talents and abilities we in the church call spiritual gifts? The answer we find in the pages of the Bible is that God has always been gifting, calling, and preparing people to be involved in his work. Almighty God chooses people like you and me to do incredible things.
As we saw last week, the requirement for being able to be used by God is to offer up all of ourselves, heart/mind/soul/strength, to God in worship. As Christ calls us to follow him we lay aside our self-interests and offer up our bodies as a living, holy, and pleasing sacrifice to God. True worship is more than singing, more than coming to church, more than attending a Bible study. True and proper worship of God involves daily giving him everything we are. As we allow the Spirit to renew our minds, we are able to respond to God's love and grace with this proper and true worship that spills out into every area of our lives – not just our Sunday lives, but our Monday to Saturday lives.
Pastor Lisa closed by asking us to answer this question during the past week: What kind of living sacrifice, living worship, am I offering up to God today? As I am here, waiting in line at the bank, stuck in traffic, at the ballgame, out with friends: what kind of worship am I offering up to God right now.
It is in this spirit, with this kind of worship in mind, that Paul then goes on to give us a sample of some of the gifts God through his Holy Spirit gives us. These are gifts which we humbly receive and use to build up and serve one another. Today we will be looking at the first three, so I invite you to turn with me to Romans chapter 12, and I will read verses 3 to 8.
SERMON PASSAGE: Romans 12:3-8 (NIV)
3 For by the grace given me I say to every one of you: Do not think of yourself more highly than you ought, but rather think of yourself with sober judgment, in accordance with the faith God has distributed to each of you. 4 For just as each of us has one body with many members, and these members do not all have the same function, 5 so in Christ we, though many, form one body, and each member belongs to all the others. 6 We have different gifts, according to the grace given to each of us. If your gift is prophesying, then prophesy in accordance with your faith; 7 if it is serving, then serve; if it is teaching, then teach; 8 if it is to encourage, then give encouragement; if it is giving, then give generously; if it is to lead, do it diligently; if it is to show mercy, do it cheerfully.
PART 1 – Prophecy, Service, and Teaching
If you have ever received a list of spiritual gifts, or if you were to Google spiritual gifts, you would get a pretty long list of 20 to 25 gifts, depending on how many Biblical passages that list is based on, of roles or tasks that can be found in the New Testament. For this sermon series though Pastor Lisa and I wanted to narrow our focus, both for reasons of time (we only have four Sundays), but also for reasons of clarity. There is a phrase you might have heard, paralysis by analysis. In looking at everything the Bible teaches on this topic we can frankly become overwhelmed, to the point where nothing really sticks.
So the list in Romans 12:6-8 is not complete – it is only a sample. But it is diverse, and it highlights seven gifts which are meant to build up the body of Christ. The three we will look at more closely this morning are three which we might consider to be the more "visible" gifts. These are the gifts which might get your name on the church bulletin or website. These are roles which many shy away from because they do not like speaking in front of others or being up front. The result of this is that many times those who have more charismatic and outgoing personalities will fill these roles. However, and paradoxically, these are some of the roles which require the most humility, because it is in these roles where the temptations of pride can cause the most harm.
The first one is prophecy. The popular understanding of the word is of predicting future events, prophesying the things that will happen. Maybe the name Nostradamus comes to mind. But the biblical understanding of this word is quite different. A prophet is one who hears from God and communicates what she or he hears to others. A prophet is someone who is able to understand and proclaim with clarity and conviction what God is doing among us. This is a role which might seem glamorous at first glance – I mean who wouldn't want to hear directly from God and then get to speak to others what God is saying.
But just a quick glance at those who were called prophets in the Bible will dispel these ideas of grandeur! Study the lives of Ezekiel, Isaiah, and Jeremiah, and you will see how thankless and difficult their task was most of the time, because when you are called to speak God's truth among a people, that truth will not always be rosy or happy. Sometimes you will need to name sins, name the heartbreak, name the brokenness, and that is not easy. But if it is God's truth, you will also get to follow it up with the eternal hope we have in Jesus, of the grace which will not let us go until we commit to following Christ and giving 100% of ourselves to him. In the church this is typically the role of the pastors, the bishops (district superintendents in our denomination) and so on. These are the spiritual guides and leaders of the church.
The second gift listed is service. This is where we get the term deacon, one who ministers or serves. In our denomination we don't name deacons at the local church level, but we have a church board with Trustees and Stewards, an NYI president, NMI President, and Sunday School Superintendent, as well as a church treasurer. These are the people who are called to do the day-in and day-out work of the church in service of others. This is the practical work which keeps the building in good shape and the bills paid, but it is also the people-oriented work of organizing people to go the food pantry, setting up tables and chairs before a Sunday School class meets, organizing volunteers for our nursery, or organizing the food and activities for our Church in the Park tonight. Unlike the prophet, the servant is not always in the spotlight, but even behind the scenes they make things happen. And they are not immune from pride either, as someone might begin to think that no one could do their particular task as well as them. Someone on the church board may think, "I know what really needs to happen and how it needs to happen." But when we serve in these roles with Christ-like humility, there is a joy which we feel in giving our God-given talents in service of God and others as we minister to the needs of people.
The third gift listed is that of the one who teaches. While there is overlap or commonality between the roles of teacher and prophet, one way of distinguishing them is that the teacher focuses on passing down known truths of God to others. This does not mean that God is not speaking or giving them the words to teach – it simply means that their calling centers on bringing God's words, the Bible, and the knowledge and beliefs of the church into our context. I have had the great privilege of speaking in front of people of many different ages, and let me tell you, it takes a lot of work and preparation to not only communicate God's truth clearly but also to be able to do it in such a way that they hear it, digest it, and incorporate it into their lives. Here again, pride can rear its ugly head when people compliment how we teach and we begin to think we have special insight that no one else has, or when we begin to blur the line between God's truths and our personal opinions or biases. But when we take on this role in humility, God can use us to change people's lives as they are confronted by God's timeless truths, which are just as relevant today as they were for the people of Israel or the first Christians.
PART 2 – Am I called?
In the Gospel passage from Matthew we heard before the message, Peter plays a special part in that as he receives Jesus' unique calling, he is also representing us. When Jesus says that he will build his church, we along with Peter are the building materials, we are the living rocks God wants to use. When we accept Jesus as our Lord and Savior, we are also accepting his call to follow him and serve him, to be used by him for the building of his kingdom.
So, at one time or another, we will all be called to prophecy, to declare what God is doing in our midst. When you give testimony of what God is doing in your life, you are being a prophet to the rest of us. At one time or another, we will all be called to minister, to serve others on behalf of God. When you come to a church event early to help set-up or when you visit a fellow brother or sister in Christ in the hospital, you are ministering them, you are serving. We will all be called to minister, to serve others on behalf of God. At one time or another, we will all be called to teach, to share with others how God's truths are making an impact in our lives. As discipleship pastor I enjoy being able to go to different small groups and Bible studies because I get to hear from you. It is during those moments when I truly feel I am part of the body of Christ, as I get to hear you teach and interpret the truth from the Scriptures, as I get to hear you encourage and minister one another.
While I consider it a privilege to be able to stand in front of you to share from God's word, I will repeat something that Pastor Bill says often. What you hear from the pulpit on Sundays is not enough to truly feed your spiritual life. It might get you through the week sometimes, but it won't give you enough of God and his truth to nourish you so you can grow and thrive in your faith. The church was never called to depend on a small group of professionals for their spiritual growth. When Paul wrote this passage he had no idea that one day there would be a separate class of professionals called pastors. When Paul wrote this passage he was envisioning a church where each member contributed to the life of the body. God is calling each of us to be living sacrifices in this way.
But, how do we know if God has given us these gifts of prophesy, ministry or teaching? How do we know whether God wants us to develop and use those particular gifts? When I graduated college I didn't go straight to a job. I went back home to live with my parents as I continued to prepare in my pursuit of becoming a doctor. By then my dad was serving as pastor of the Hispanic ministry in College Church, in Olathe, and so after a while I started attending those services and not the regular English service. God had been working in my life, deepening my faith after I grew apart from him and the church during college, but I was surprised one Sunday morning when I began to feel a desire to help with the praise team. I played trumpet throughout high school and college, and even in the orchestra, but the praise team of the Hispanic ministry consisted of the leader and a drummer, maybe a singer or two from time to time. But I felt God pushing me to talk to the worship leader, and he welcomed me and saw that I could help with the trumpet and began, by example, to disciple me. And I played bad notes at times, good ones at other times, but learned more and more about what it meant to worship God. So when Manuel, the worship leader said he was leaving to go to another church, I was crushed. Who's going to help lead now? I thought. And that's when I felt God calling me to learn the guitar! I had never played it or wanted to play it before – but I felt a need and God calling me to fill it. So I did, I learned guitar, and someone else came who led worship, and they discipled me by example and by devoting time to me….
Your calling might be very specific already, you might already know that God has placed a call to be a pastor or missionary in your heart. If so, I invite you to seek one of us in the pastoral staff out. We will be happy to share our experiences with you, share what we know, and help and mentor you in this process of discernment. We can point you to others who have helped us and encourage you in the way. Maybe you heard me describe service and think that is the place for you. Talk to us too, or seek out a board member or ministry leader, and begin to get involved. Maybe teaching is in your heart – we have a wonderful group of teachers and small group leaders right now who I know would be happy to share with you what they know and mentor you.
PART 3 – Receive in humility, to build up and serve one another
So, how do you know, or how do I know as a minister and pastor, when someone isn't called to one of these roles? There is discernment, there are personal conversations that have to happen, but one of the biggest red flags is when someone seeks out one of these positions because of the status or influence it will give them. I wish I could tell you I never have this temptation, but I do. When I am preparing a lesson for Sunday school, writing a sermon, or even getting ready to post something on Facebook on behalf of the church, my first check is this: Is this me talking out of my personal biases and opinions, or is this truly from God? And a second one is: Is this going to edify my own status and my own influence, or is this going to edify others?
Church of Christ, in everything we do, wherever we go, however we serve, we are called to follow the example of Jesus, who, "Though he was God, he did not think of equality with God as something to cling to. Instead, he gave up his divine privileges; he took the humble position of a slave and was born as a human being. When he appeared in human form, he humbled himself in obedience to God and died a criminal's death on a cross." (Philippians 2:6-8, NLT)
In order to use our gifts, in order to faithfully fulfill God's call on our lives, we must learn to humbly receive God's gifts. Not with pride because these are not our gifts. So when I speak I believe by faith my words are not only my own but God's; when I serve and minister others I recognize I can only do it in the power of God's Spirit.
CONCLUSION WITH COMMUNION (Rite adapted from The Church Rituals Handbook, Second Edition by Jesse C. Middendorf, published by Beacon Hill Press of Kansas City, 2009)
So as our communion assistants take their places and as we prepare to receive God's grace through communion, I invite you this morning to approach the Lord's table with the humility of Jesus in mind. It was this humility which chose to serve instead of being served. It was this humility which chose the cross instead of the throne. It was this humility which sought God's will and purposes above his own.
I invite you to participate with me in the reading you will see on the screen:
Minister: The Lord be with you
People: And also with you
Minister: Lift up your hearts
People: We lift them up to the Lord
Minister: Let us give thanks to the Lord our God
ALL: It is right to give God thanks and praise.
Let us pray:
…So we remember that on the night when our Lord was to be betrayed, he took the bread, and when he had given thanks, he broke it, and gave it to his disciples and said, "Take, eat: this is my body, which is broken for you: do this in remembrance of me."
After supper he took the cup, and when he had given thanks he gave it to his disciples and said, "Drink from it, all of you. This is my blood of the covenant, which is poured out for many for the forgiveness of sins". "Do this, whenever you drink it, in remembrance of me."
So we pray that in you grace and mercy, your Holy Spirit would descend on us and on these gifts, that they may be holy gifts for you holy people. May all of us who share this bread and cup become one body and one spirit, a living sacrifice in Christ, to the praise of your name.
In a few moments I will invite you to come down the two middle aisles, take a piece of bread, then dip it in the cup and eat it before either spending time in prayer at the alter or going back to your seats by the outer aisles.
All who confess Jesus Christ as Lord are welcome to come to His table. But if you have not yet received Jesus Christ as Lord, if even this morning God is tugging at your heart, calling you to surrender it all to him, this can be your moment of salvation. If that is you I invite you to seek me out after service and we can talk more about the life of joy and service God is calling you to.
These are the gifts of God for the people of God. Take them in remembrance that Christ died for you.
Lisa and Samuel Aparicio serve on staff at the Harrisonville Church of the Nazarene (Harrisonville, MO). Additionally, Lisa serves as Ministry Development Coordinator for Nazarene Youth International and Samuel serves as an Associate Editor of Preacher's Magazine.