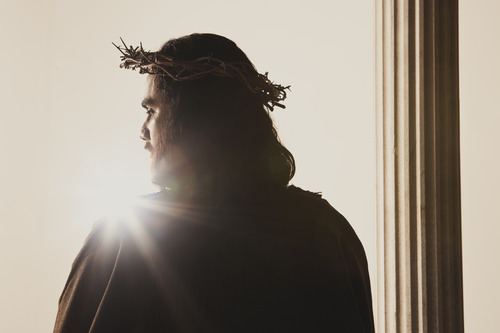 This post is also available in: French Spanish
John 19:9
The Reverend Dr. Bruce Allder
District Superintendent of the Western Australia District and Principal/President of the Nazarene Theological College in Brisbane, Australia.
In those awful, dramatic events leading up to the crucifixion of Jesus, there is a startling statement made of Jesus when questioned by Pilate:
He (Pilate) entered his headquarters again and asked Jesus, "Where are you from?" But Jesus gave him no answer. (John 19:9 NRSV)
On several occasions through these events, Jesus was asked questions, and he did answer those questions – surprising as his answers were to the questioner. What surprises me in this account though, is that Jesus did not seize the opportunity to justify his innocence. He was silent in the face of injustice. Pilate, on at least two occasions (19:6, 12), appeared to recognise Jesus' innocence and tried to release him from custody. Pilate had supposed, incorrectly, that once the crowd was confronted with innocence, they would choose right over wrong. Yet, Jesus appeared "silent" in the face of that injustice and false accusation.
Each time I read the events of that first Easter, I feel a sense of outrage at the injustices imposed upon Jesus. Don't you want to cry "Unfair!" at the weakness of the legal authorities that allowed mob rule to take the life of an innocent man? What kind of man was King Herod who would dress Jesus in a royal robe and parade him before the mob of people shouting for his crucifixion? (Luke 23:11) You can almost feel the sense of scandal and outrage that the mob was feeling at such a provocative act! Can you hear the shouting voices, the confusion, the chaos, and the din of a people at fever pitch seeking blood? It made for a totally overwhelming moment. It was into this kind of uproar that Jesus was silent.
The silence of Jesus is in stark contrast to the roar of the crowd and the mocking of the leaders. It reminds me of the prophet Elijah who stood at the mouth of the cave (I Kings 19) and waited for the Lord to pass by. After the earth shattering wind, earthquake and fire, we read of the sound of sheer silence (I Kings 19:12). The silence made all the more dramatic by the noise, chaos and destruction of the wind, earthquake and fire! Then a voice came to him (Elijah) (I Kings 19: 13). Strength can be found in silence. Much can be "said" in silence.
I am not, for a moment, suggesting that we should be silent in the midst of injustice that we see in our world. As Christians, we have the responsibility to speak for the disenfranchised, the hurting, and the suffering: to seek ways of correcting wrongs; to confront systemic evil. However, the silence of Jesus in this moment is a different kind of silence. It is based in a different reality to the circumstances in which Jesus found himself. This different reality anchored Jesus as he remained silent.
This reality for Jesus is expressed in his dark night of the soul in the Garden of Gethsemane as he faced his future. The Apostle Luke tells us that
. . . in his anguish he prayed more earnestly, and his sweat became like great drops of blood falling on the ground (Luke 22:44). Jesus response was, Father, if you are willing, remove this cup from me; yet, not my will but yours be done (Luke 22:42).
It is the reality of obedience. It is interesting that the account of Jesus agony in prayer comes after his affirmation to be obedient to the Father's will. The horror of what was about to unfold was clearly understood in Jesus mind, but he accepted the path he was to walk for the sake of His Father's will.
The silence of obedience had Pilate quite surprised and troubled. Why would an innocent man not defend himself? Why wasa tirade of self-justification and a litany of reasons not given by this man? Jesus was called to a higher purpose and he would be obedient to it! Is it any wonder that Pilate became a troubled man as he saw, in Jesus, a supernatural strength in the midst of his apparent powerlessness!
This experience of Jesus, so pivotal to our salvation, reminds us of God's call to us: His call to follow Him. It is a call to obedience and to follow Him – whatever the circumstances. Jesus says, Whoever does not carry the cross and follow me cannot be my disciple (Luke 14:27). German theologian, Dietrich Bonhoeffer, was tragically martyred just as few weeks before the end of World War II. He had chosen suffering and identification with his people, who desperately needed to see the Gospel lived and worked out in the horrifying circumstances of Nazi Germany.
Dr H. Fischer-Hullstrung was the doctor overseeing the execution of Bonhoeffer. He wrote:
Through the half open door in one room of the huts, I saw Pastor Bonhoeffer, before taking off his prison garb, kneeling on the floor praying fervently to his God. I was most deeply moved by the way this lovable man prayed, so devout and so certain that God heard his prayer. At the place of execution, he again said a short prayer and then climbed the steps to the gallows, brave and composed. His death ensued after a few seconds. In the almost fifty years that I have worked as a doctor, I have hardly ever seen a man die so entirely submissive to the will of God.
Bonhoeffer thought it the plain duty of the Christian – and the privilege and honor – to suffer with those who suffered. He knew that it was a privilege, to be allowed by God, to partake of the sufferings of the Jews who had died in this place before him. (pg 532 Eric Metaxas, "Bonhoeffer: pastor, martyr, prophet, spy")
Australian songwriter, Geoffrey Bullock, expresses the quiet confidence that the child of God can have in the midst of the "desert" experience.
Just let me hear Your finest whisper, as You gently call my name.
And let me see Your power and Your glory, Let me feel Your Spirit's flame.
Let me find You in the desert, 'till this sand is holy ground,
And I am completely surrendered to You, my Lord and Friend.
(Just Let Me Say – underlining my emphasis)
More fundamental, though, to the silence of obedience, is the silence of rest in a relationship with His Heavenly Father. Pilate was completely puzzled over Jesus' lack of response as he challenged Jesus.
"Do you refuse to speak to me? Do you not know that I have power to release you, and power to crucify you?" Jesus answered him; "You would have no power over me unless it had been given you from above." (John 19:10, 11)
In the midst of the noise of injustice; in the midst of the roar of an unruly mob; in the midst of the deafening cacophony of voices of abusive power, Jesus finds a quiet confidence in his relationship with His Heavenly Father. These people, these circumstances, cannot ultimately bring death! In times like this, what is not said speaks louder than what is said. Secure in a relationship with His Father, committed to doing His will, Jesus found His Father in the silence.
"Hearing" through silence is a place we all need to find. Those that find that place inspire and amaze us. Two years ago, my daughter lost her battle with cancer. My wife and I had the privilege of nursing her at home. For two and a half years of her illness, when she was not able to return to the mission field in Thailand, we journeyed with her through this insidious disease. We witnessed the journey of a young lady who has become an inspiration to many, because of her "strength in silence". She kept a diary, and in that she quotes Psalm 13:
How long, O Lord? Will you forget me forever? How long will you hide your face from me? How long must I bear pain in my soul, and have sorrow in my heart all day long? How long shall my enemy be exalted over me? Consider and answer me, O Lord my God! Give light to my eyes, or I will sleep the sleep of death, and my enemy will say, "I have prevailed." My foes will rejoice because I am shaken. But I trust in your steadfast love. My heart shall rejoice in your salvation. I will sing to the Lord, because he has dealt bountifully with me. (Psalm 13 NRSV)
I've studied this psalm before, but this is the first time it has just called out to me and meant so much more. I thank God for David and his writings that are just so real – so how I feel! This is, I guess, the first time my cancer has just got to me and got me feeling down – as well as other stuff going on. But as I cry out like David did at the beginning of the Psalm, I can pause and wait … and really mean vs 5 & 6. Despite of everything I trust in His unfailing love!!! (Some days it is hard to say … but it is there!) (Diary June 14, 2011)
Just a few weeks before she passed away, she said this in an interview:
Everyone's like, "How'd you feel? Did you get angry?"(at being diagnosed with terminal cancer). No, from the beginning there was just a peace that God's in control and there was just a peace about it. I didn't ever question God once, and I still don't. I believe that God can heal me, but I also know that He may not and that is His plan. Even up until now, in these last few days, I can see how He's using my story that there is a hope and my life can continue to be used. That's my prayer each day right now. (Engage Magazine Interview Jan 2012)
My daughter's silence on questions to God about "Why?" and "Why me?" was grounded in this faith-filled walk with Jesus. It has been that "silence" that has inspired many. Like Jesus in the Garden: my daughter agonised over her disease; she learned to live with a level of pain that was remarkable; she suffered much through chemotherapy and medical procedures; she was discouraged by the missed opportunities that her medical condition imposed upon her; but all the time, there was a quiet confidence in her Saviour that was born in a vital living relationship.
Shuji Moriichi, in further cultivating skills and the art necessary to be a good chaplain, took on further training through the rigors of Clinical Pastoral Education. He states:
It now seems quite telling that the conversation parts of my verbatims also included many occurrences of silence, whether kept by me or others. It is perhaps true that these were included in the body either because I was particularly aware of them, or because I felt that the conversation would have been incomplete without them. (J of Pastoral Care Vol 3 #1,2 Spring/Summer 2009 pg 4)
Through this Holy Season of Easter, the silence of Christ challenges us to rest in a faith-filled journey with our Lord. Allow the silence to speak even louder than our words when circumstances overwhelm us. Let the silence tell those around us, "God is enough".
Enough
Worry and stress are not hard to find for us, God,
we do them without thinking.
There is always the potential of threat
to our security,
our comfort
our health
our relationships,
our lives,
and we foolishly think that we could silence the fear
if we just had enough money,
enough insurance,
enough toys,
enough stored away for a rainy day.
It's never enough, though;
the voice of our fear will not be dismissed so easily.
But in the small, silent places within us is another voice;
one that beckons us into the foolishness of faith,
that points our gaze to the birds and flowers,
that, in unguarded moments, lets our muscles relax,
and our hearts lean into loved ones;
in unexpected whispers we hear it,
calling us to remember your promises,
your grace,
your faithfulness;
And suddenly, we discover
that it is enough.
Amen. By John Van De Laar. (The Weavings XXV #4 )
The sound of the sheer silence of faith is deeper than circumstances. It is a confidence in our Heavenly Father so we pray, "Not my will, but Thine be done".
Blessed are those whose strength is in You, Who have set their hearts on pilgrimage. As they pass through the Valley of Bacca, they make it a place of springs (Ps 84: 5 & 6 NIV)