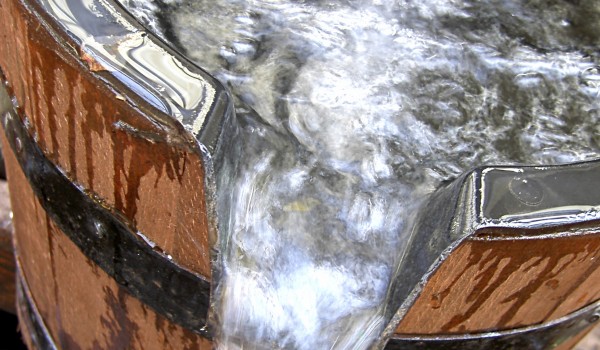 This post is also available in: French Spanish
Context: This sermon was preached at Flint Central Church of the Nazarene in January of 2015.  The sermon series at the time was, "Resolved."  It centered on Micah 6:8 and pulled out three specific aspects that would serve as resolutions for the Flint Central congregation not only for 2015, but in general.  The three resolutions are: (1) act justly, (2) love mercy, and (3) walk humbly with your God.  This sermon is the third in this sermon series. 
All Scripture citations are from the NIV.
by Cara Shonamon
Here at Flint Central we have been in a sermon series called, "Resolved."  What is it that God would call us to do?  How would he call us to live?  The prophet Micah helps answer these questions.  Micah's context was that he lived in the southern kingdom of Judah. The nation of Israel split in two after the death of King Solomon.  The Northern Kingdom was known as Israel and the Southern Kingdom was known as Judah. 
This is the context in which Micah wrote the words found in Micah 6:8 saying:
"He has shown you, O mortal, what is good.
    And what does the Lord require of you?
To act justly and to love mercy
    and to walk humbly with your God." (Micah 6:8)
This passage provides the answer to our questions: What is it God would call us to do? How would he call us to live?
The answers are for us to act justly, love mercy, and walk humbly with our God.
The call to "act justly" is so see justice differently than the world does.  The world views justice as appropriate when the punishment matches the crime—this is retributive justice. 
We are called to live differently than the world and as such we are called to restorative justice.
Restorative justice is hard work— it takes time and it means we are going to do whatever it takes to mend relationships.  I once heard a friend say that they welcomed conflict among friends instead of fear conflict.  I asked why?  My friend responded saying that conflict is an opportunity to deepen a relationship with a friend.  It is worth the time and struggle to restore justice to relationships and to this world. 
We are also called to "love mercy."  Meaning that in all that we do we are called to show love, compassion and grace.
We are finally called to "walk humbly with our God."
I had the unique experience of growing up on the mission field in Moscow, Russia.  I loved living in Moscow.  I loved the rich history, the big city, and the freedom to use public transportation to get around. 
My sister, Christy, is two years older than me and we would get ourselves to school and home every day on the Moscow public transportation.  Around 10 million people use the metro system in Moscow everyday.  It is very safe and extremely efficient.  In fact when giving directions people always begin with the metro stop as a point of reference. 
Christy and I attended a Christian school for missionary kids in the city and it was quite an adventure getting to and from school each day.  In order to get to school in the morning we would bundle up for the journey (especially in the winter months), get in our elevator, avoiding anything on the floor because sometimes dogs didn't quite make it outside, and we would begin our journey to school.  We would walk for 10 minutes to the bus stop, wait for our bus (number 28), ride it for four stops, we would then get off our bus, cross the 8 lane road and get on another bus (number 52), we would ride for another 5 stops, get off, and then walk the rest of the 10 min to school.  Most days this entire journey would take us about an hour.
I say all of that because most of the time when my sister and I walked together we talked about life.  Our relationship deepened everyday in our commute to and from school.  When I read this passage and came to where Micah said, "walk humbly with your God" I couldn't help but imagine what it would be like to go on a long, daily walk with God. 
This image got me thinking about what other passages use the imagery of walking with God.  Turns out there are many passages in the Old Testament that talk about walking with God.  I want to highlight three passages in the Old Testament and then briefly mention a few others passages that talk about walking with God.
Walking is more than a way of getting from one place to another.  Especially when it is used in the Old Testament.  It is symbolic of relationship.   
Genesis 5:22 talks about a man named Enoch and says, "After he became the father of Methuselah, Enoch walked faithfully with God 300 years and had other sons and daughters."
What an amazing statement to be made about a person, "Enoch walked faithfully with God 300 years."  First of all, 300 years is a long time, and second of all, he is remembered for how he lived his life in relationship with God. Let's look to others who also walked faithfully with God.
Genesis 6:9 begins the story of Noah and says, "This is the account of Noah and his family. Noah was a righteous man, blameless among the people of his time, and he walked faithfully with God."
Noah also was remembered for walking faithfully with God.  If Noah had a tombstone it would say, "walked faithfully with God."  Wouldn't that be an amazing testimony of one's life. 
Another person in Genesis is also known for walking faithfully with God.  In Genesis 17:1 God is speaking with Abraham who was then called, Abram.  The verse says this, "When Abram was ninety-nine years old, the Lord appeared to him and said, "I am God Almighty; walk before me faithfully and be blameless."
God calls Abram to walk before him faithfully.  We know that Abraham had a very deep relationship with God and was faithful even to the point of being willing to sacrifice his own son because God asked him to!  God provided for Abraham so that he did not have to sacrifice his son and continued to provide for Abraham and his descendants. 
My curiosity about passages in the Old Testament where God either walks with people or calls people to walk with him led me to the following verses.  There are many more than these that I will read, but they help show the importance of a relationship with God. 
In Leviticus 26:12, God says to the people of Israel in the desert, "I will walk among you and be your God, and you will be my people"
God promises to be in relationship with the people of Israel.  When he said, "I will walk among you." He is saying he is in it for the long haul.  He is covenanting to be with these people through the thick and thin. 
In Isaiah 30:12 the prophet writes, Whether you turn to the right or to the left, your ears will hear a voice behind you, saying, "This is the way; walk in it."
God is our refuge and our guide.  If we will listen to his leading he calls us to him.  He guides us saying, "This is the way; walk in it." 
The last verse I want to share that stood out to me from the Old Testament is from Micah 4:5. Micah writes,  "All the nations may walk in the name of their gods, but we will walk in the name of the LORD our God for ever and ever."
This is another verse from Micah that talks about walking with God.  It is pretty significant to point out the significance of what it means to "walk" in context of the Old Testament.  Walking means relationship, walking mean going through the good times and bad times together, walking is not a one time thing.  Walking is a commitment. 
The New Testament also has quite a bit to say about walking. 
Jesus is speaking in John 8:12 and he says this, "'I am the light of the world. Whoever follows me will never walk in darkness, but will have the light of life.'"
When we follow Christ we will not live life in the darkness.  In fact we can't have relationship with the darkness and the light.  So, when we are walking with Christ in the light we cannot be in the darkness. 
There certainly is a lot of walking going on in the Bible.  I wonder if all of this walking still applies to us today.  After all we are more of a society dependent on driving or flying.  Maybe we could substitute drive for walk and Micah's words would read, "drive humbly with your God."  That has some interesting implications for our attitudes while driving, but I don't think it quite conveys the same message: the message of a relationship, a journey through thick and thin together. 
The writer of 1 John also writes about walking and even gives us a great example to follow as we walk.  1 John 3:2-6 says this:
By this we know that we have come to know Him, if we keep His commandments. The one who says, "I have come to know Him," and does not keep His commandments, is a liar, and the truth is not in him; but whoever keeps His word, in him the love of God has truly been perfected. By this we know that we are in Him: the one who says he abides in Him ought himself to walk in the same manner as He walked.
We are called to walk like Christ.  The writer of 1 John is saying that Jesus is our example.  We are to walk as he walked.  How does this all tie in with Micah 6:8 and our resolutions?  It all ties in because Jesus is the ultimate example of walking humbly.  He not only walked humbly through life, but he shows us what it is like to perfectly love God and love others. 
There is an early church hymn recorded in Philippians 2 that beautifully shows us the humble life of Jesus.  Philippians 2:5-11 says this:
 In your relationships with one another, have the same mindset as Christ Jesus:
Who, being in very nature God,
    did not consider equality with God something to be used to his own advantage;
rather, he made himself nothing
    by taking the very nature[b] of a servant,
    being made in human likeness.
And being found in appearance as a man,
    he humbled himself
    by becoming obedient to death—
        even death on a cross!
Therefore God exalted him to the highest place
    and gave him the name that is above every name,
that at the name of Jesus every knee should bow,
    in heaven and on earth and under the earth,
and every tongue acknowledge that Jesus Christ is Lord,
    to the glory of God the Father.
This passage is amazing!  We see here that Jesus humbled himself when he came to this earth and humbled himself further by being obedient to death.  Even death on a cross! In all that we do we must strive to serve others and share God's love in the process. 
I have enjoyed teaching an adult class on Wednesday nights talking about Church history.  We started in 35AD and made our way through to present day.  We learned some great things together as we journey through "exploring our roots" as the body of believers and as Nazarenes. 
Two things stood out to me from our history classes that apply to what we are talking about today… walking humbly. 
The first is simply how amazing God is that he would send his one and only Son to be born, live, die, and rise again for us.  A great pastor in the 2nd century was a man by the name of Irenaeus and he wrote something beautiful.  He said of Christ, "he became what we are so that we might become what he is."  Christ became what we are, human, he was fully human and fully God at the same time.  He took our humanity.  He took all of the sin of the world on his shoulders.  He was tempted, he experienced life, death, sadness, he ate, and he slept: he was fully human.  At the same time he was also fully God, which means that he alone could save the world from its fallen state.  As a result of Christ becoming what we are, human, we can now become what he is, sons and daughters of God.
Christ lived an entire life of humility as an example for us.  Just as it said in John, we are to walk as he walked.  We are to be humble, take up our cross, and follow him. 
Now, following Christ is not easy.  We see in Hebrews 11 what the lives of the faithful looked like and some of them ended in persecution and death. 
Sometimes we need help getting on track and reminded of the life we are called to live.  This brings me to the second example from history. 
In the 4th century there were 3 men who were great theologians in the church.  Their names were Basil, his brother Gregory, and their friend Gregory.  These men are now known at the Cappadocians.  They are named after a region of present day Turkey that is called Cappadocia.  They were great men of faith and their writings still impact us to this day. 
The brothers Basil and Gregory came from a family of believers who had experienced persecution over the years, but now were a privileged family.  Basil was the oldest and as such he was given the best education of all the children.  He went to the best schools that were available in that day.  He even studied at the same school as the future emperor! 
Basil and Gregory had a sister named Macrina.  She was not highly educated as they were, but she had devoted herself to Christ ever since she was 12 years old. Upon his returen home from his schooling, Macrina called out Basil for the fact that he had become arrogant. One historian put it this way:
"She bluntly told her brother that he had become vain, acting as if he were the best inhabitant of the city, and that he would do well in quoting fewer pagan authors and following more of the advice of Christian ones. Basil shrugged aside his sister's comments, telling himself that, after all, she was rather unlearned."
Later one of Basil's, Gregory's, and Macrina's brothers passed away and Basil was very close to this brother.  The same historian writes,
"The blow was such that Basil changed his life entirely. He resigned his teaching position and all other honors, and he asked Macrina to teach him the secrets of religious life."
Basil needed reminded of what it is like to live a humble life.  His sister was honest with him and after a time he realized he needed to live life differently.  He needed reminded to live a life serving the Lord and not one that praised himself. 
Maybe we all need a reminder from time to time.  Maybe we need to take some time to examine our lives and ask the tough questions: Are we walking humbly with God?  Are we walking as Jesus walked?  How can we better walk after Christ?
Following Christ and living like him does not make sense in this world. 
God's justice is not the world's justice.
God's love is not the world's love.
God's way of life, a life of humility, is not the world's way of life.
God is notorious for flipping the expectations of the world upside down.  We are called to be people of God's kingdom, making a difference in this world.  What if we lived our these 3 resolutions to the point where people would look at us and no long see us but see Christ in us. 
What if we lived in such an upside down way that it would cause people to ask us what is so different about us?  What if we lived in a way that we couldn't help but share the love of God with all we come in contact with? 
God has turned everything in this world on its head because of his immense love.  In 1 John 3:1 we read, "See what great love the Father has lavished on us, that we should be called children of God!"
It's like God has a huge bucket in heaven and pours out his love on us and we are now soaked.  Have you ever gotten wet and not been ready for it?  Maybe a cooler of water was dumped on you, you got stuck in a rainstorm, or you fell in a pool fully clothed (or you were pushed).  The image is the same because you are drenched from head to toe and when you walk around people notice that something is different about out.  You can help by sprinkle others with water as you walk by.  Your shoes are squeaky and people notice the sound and look your way.  They wonder what happened to you and can't help but ask. 
God's love is just like the water; it is lavished on us to the point where people notice. 
Let's resolve to live lives patterned after Christ where we are not noticed for what the world deems worthy, but we are noticed for acting justly, loving mercy, and walking humbly with our God.
Cara Shonamon serves as pastor to children and families at Flint Central Church of the Nazarene (Flint, Michigan). This sermon was submitted to Nazarene Theological Seminary as part of the Corlett Sermon Award, 2015.